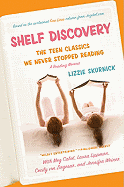 I could have sworn that I had heard about this book from one of my favorite new (new-to-me, at least) blogs,
Forever Young Adult
, but when I double-checked, I don't see
Shelf Discovery
there after all. Well, thank you, anonymous random blog that recommended this, wherever you are, as I heartily enjoyed it. Children of the 70's, rejoice. This is your book.

Skurnick's reviews cover a very particular range of young adult fiction -- books for girls, most written in the '60's and '70's. The book is rounded out with additional essays by Meg Cabot, Cecily von Ziegesar and Jennifer Weiner among others. The chapters are loosely divided by theme such as; girls living in the wild, afterschool specials, girls with supernatural powers, etc. Reading this felt like the equivalent of picking up an old yearbook and reminiscing about friends.

At first, I wondered if Skurnick might be just a bit older than me. Classics like Sister of the Bride by Beverly Cleary (1963) seem just before my time. But as I dug in further, I realized that while I had read many of the novels she spotlights, a good number of these novels are exactly the kind of thing I would have avoided like the plague when I was a teen. It's what we call, "problem fiction" about girls coming of age, amidst much turmoil and stress. When I was that age, I wasn't looking for realistic fiction... I wasn't even looking for the juicy voyeuristic thrill of reading about girls who had it much worse than I had. I was looking for escape and adventure and high fantasy. So, Skurnick's explorations of fantasy classics like A Wrinkle in Time and hidden gems like The Girl with Silver Eyes were what resonated with me most.

Skurnick races through many of her reviews, with just a few pages each, adding her own thoughts and personal reactions to the works of Lois Duncan, Madeline L'Engle, Judy Blume, and others. She careens to a giddy finish featuring two (long) reviews of Jean Aeul's Clan of the Cave Bear that really felt like a bit much -- especially because each used the exact same pull quotes from the original novel, the scene where Ayla is raped. I would have liked an additional essay at the end, a postlude of sorts to cap off the book, which instead ends abruptly with a critique of Domestic Arrangements by Norma Klein.

Is this a book for today's teens? Probably not. But for librarians, teachers and especially women who grew up reading many of these books, this book will be a treat. So, there we have it. My review of a book of reviews that I picked up on the strength of another review. How meta.

I borrowed this book from the library.