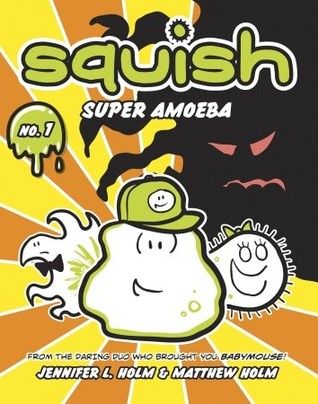 Squish: Super Amoeba
by Jennifer L. Holm, illustrated by Matt Holm
Random House Children's Books
May 2011

From the creators of Babymouse, Squish is an easy-to-read graphic novel about a hapless young amoeba, Squish. Just like Babymouse, the illustrations are clear and simple, featuring heavy black lines with a pop of accent color. Where Babymouse is pink, pink, pink, the illustrations in Squish feature touches of green. The story is obviously created for lots of boy appeal, but I know girls will like this series, too.

Squish is kind of the Jerry Seinfeld of middle-grade graphic novels. Nothing really happens, but it's all very, very funny. It's just Squish, his family and friends, and little adventures at school. His best friends, Pod and Peggy (a cheerfully dumb paramecium) must cope with Lynwood, a bully at their school. The text features several humorous asides to the readers.

I'll give this to fans of Babymouse, of course, as well as to readers who enjoyed Diary of a Wimpy Kid, Captain Underpants, Frankie Pickle and other such fun, silly fare. My only criticism is that the book is so short - I think most kids will whip through this book in well-under an hour, if not mere minutes. Fortunately, there are two more in the series, with hopefully more on the way.


I purchased a copy of this book.