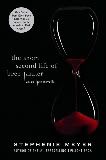 Looks like Stephenie Meyer will be returning to the world of
Twilight
with her next release, just announced for June of 2010.
The Short Second Life of Bree Tanner
is a novella based on one of the minor characters from
Eclipse
. To me, at least, it feels like the equivalent of J.K. Rowling's
The Tales of Beedle the Bard
; an opportunity to briefly dip back into something familiar, one last chance for fans to enjoy, and like
Beedle the Bard
, part of the profits for
Bree Tanner
will be donated to charity. At 192 pages, it's a lot shorter than the rest of the series, but it should still be lengthy enough to sink your teeth into.
Check out more info on the
Little, Brown website
. Superfans, go ahead and bookmark
www.breetanner.com
now -- there are plans to make the whole novel available online for a limited time.