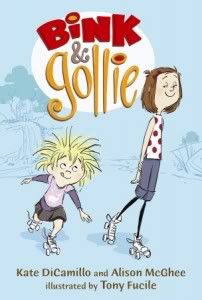 Bink and Gollie
2010

From the first page, when I saw the amazing treehouse that the girls live in, I wanted to move right in. Check out that fabulous deck! With a telescope!

Two best friends, each very different, star in this collection of expertly written stories. Sparing use of color lends emphasis and draws the eye throughout the highly illustrated text. Tall, well-groomed Gollie plays a sort of Felix Unger to Bink's exuberant, irrepressible Oscar as they make their way around town. Much like Nate the Great, Gollie seems to have a craving for pancakes, while Bink's stout frame could be attributed to the numerous peanut butter sandwiches she always seems to be fixing for herself. Three little mini-adventures are included in the book. The two girls go roller-skating and end up shopping at a sock bonanza, Gollie goes adventuring in the Andes (sort of) and Bink purchases a goldfish to be her marvelous companion. When Bink makes the ill-advised move of taking her goldfish Fred out roller-skating, disaster ensues. Although Gollie has never been fond of Fred, she leaps into action, saving the day by relocating Fred to a nearby pond.

I must admit, I did feel a little pang of worry about that frozen fish in the pond on the final page. Bink and Gollie seem pleased though - they're confidently skating along, smiling, perhaps secure in the knowledge that the fish will thaw out in the spring? I think a lot of really great children's literature does that though... leaves you wondering and worrying about some small detail.

Bink and Gollie is a little tough to categorize. I nearly want to put in alongside beginning reader books like James Marshall's George and Martha, or Lobel's Frog and Toad, but the difficulty of some of the vocabulary would seem to preclude that. The small trim size has me leaning against saying this is a picture book, although, if it had been in a larger format, I might not have thought twice about putting it there. What decides me? Is this a book best enjoyed read-aloud or read to oneself? Ultimately, I have to say, despite the brevity of the text, and generousness of the illustrations, this appears to be a light, refreshing sorbet of an early chapter book.


I borrowed this book from the library.