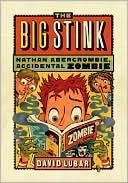 Nathan Abercrombie, Accidental Zombie: The Big Stink
August 2010

Do you love reading about about terrible odors, copious amounts of farting, projectile vomit and belching? Man, have I got the book for you. The fourth book in Lubar's series catches up with poor Nathan, who's already been a zombie for while. He's been recruited by the Bureau of Useful Misadventures (or BUM, for short) where his professor mentor frequently sends him out on "Mission Impossible" style assignments for the government with the help of his two best friends Abigail and Moogie. After a few months of being undead, unfortunately, Nathan is starting to decompose. Dealing with his stinkerrific-ness, hiding his rotten condition from his unsuspecting parents, and dodging the school bully takes up more time than running secret missions for the government. I won't ruin the ending, but luckily a solution is found for Nathan's B.O., which allows the series to carry on as per normal in it's next and final installment. I must say, this isn't at all the kind of book that I normally gravitate to, but I read it out of professional curiosity. Who is the audience for this book? Reluctant readers, especially boys, who enjoyed Andy Griffiths Zombie Butts from Uranus, Dan Gutman's My Weird School series or other similarly juvenile humor will enjoy this grossly funny book.


I received a free copy of this book from the publisher.