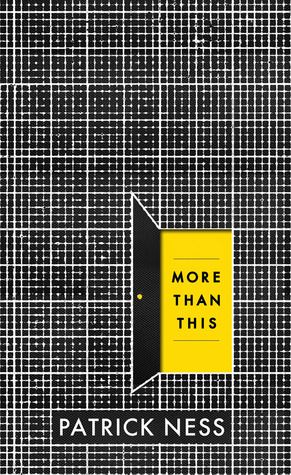 More Than This
by Patrick Ness
Candlewick Press
September 2013
I nearly gave up on this book. I make a rule, that if a book doesn't grab me in the first fifty pages, it's okay to give up on it. Let me recount what happens in the first fifty pages of this story:
Seth wakes up and is confused and disoriented. He's in his childhood home in England, with no idea how he got there.

He drinks some water

He throws up quite a lot.

He falls asleep again.

He manages to pee. It is a bit of an ordeal.

He sleeps.

He bathes in the rain, but does not feel much cleaner.

He eats a bit of horrid cold chicken soup from a can
And... that's it. Ladies and gentlemen, I was ready to throw in the towel right there, but I had several friends who had read the book and encouraged me, keep on going! It gets better!
I am glad that I soldiered on. Once poor Seth gets past the very base of Maslow's Hierarchy of Needs, things start to get interesting when

Regine and Tomasz show up. Regine and Tomasz are both are willing to entertain Seth's idea that they are in some kind of afterlife - a hellscape, if you will - but it seems that all of them have suffered blows to the head, disconnecting some kind of chip installed in their heads, and all of them are having vivid dreams of their lives and the circumstances that led them to the abandoned English town where they find themselves. Seth has a traumatic past, unloving parents, a special needs younger brother Owen (he blames himself for Owen's difficulties) and has recently discovered, thanks to his new boyfriend Gudmund, that he is gay. Regine has been in a very abusive home with a sketchy stepfather and young Tomasz was a struggling Polish immigrant.
This is a true dystopia, with a grim landscape and tons of suspense. It's a bit Matrix-like, and readers who aren't put off by the incredibly slow start will find the incredible twists and turns of the plot very satisfying.
Compare to:
Blood Red Road - Moira Young
Hello America - J.G. Ballard
The Silver Child - Cliff McNish
The Knife of Never Letting Go - Patrick Ness
I borrowed this book from the library.