This week's topic from The Broke and the Bookish is: Top Ten Sequels You're Looking Forward To. Here are mine: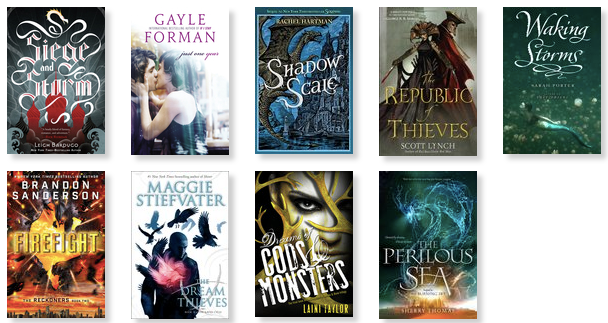 Siege and Storm - Leigh Bardugo
Just One Year - Gayle Forman
Shadow Scale - Rachel Hartman
The Republic of Thieves - Scott Lynch
Waking Storms - Sarah Porter
Firefight - Brandon Sanderson
Dream Thieves - Maggie Stiefvater
Dreams of Gods and Monsters - Laini Taylor
The Perilous Sea - Sherry Thomas.
And of course, I have to give a shout-out to the long-awaited third book in The Kingkiller Chronicle by Patrick Rothfuss. Doors of Stone is listed on Goodreads... but there isn't even any cover art as a placeholder yet. Rothfuss, get going on that! I'm sure it will be beautiful when it is done. In the meantime, luckily, most of these sequels are already out, so I have plenty to occupy me until it's released.