The Newbery and Caldecott awards are going to be announced soon - all of the American Library Association youth media awards, actually, including the Alex, Printz, Morris, Coretta Scott King and Pura Belpre, Batchelder and Seuss Geisel awards. (along with a few more that I'm sure I'm forgetting!) But, the Caldecott and Newbery awards are the ones that get people really excited. I've put together a list of predictions - things that have been getting a lot of buzz. We'll see in a few days, if any of these end up as winners, or if the awards will go to some dark horse from a small press that none of us have heard of.
Caldecott Predictions
Sam and Dave Dig a Hole - Mac Barnett & Jon Klassen
I loved this book. Will it strike gold?
Brother Hugo and the Bear - Katy Beebe & S.D. Schindler
The Right Word: Roget and his Thesaurus - Jennifer Fisher Bryant & Michelle Sweet
Super educational. Teachers and librarians will be so happy if this one wins. I like Michelle Sweet's illustrations a lot, even if they don't feel "strange" enough to win.
Firebird - Misty Copeland & Christopher Myers
Gaston - Kelly DiPuccio & Christian Robinson
Some Bugs -Angela DiTerlizzi & Brendan Wenzel
The Farmer and the Clown - Marla Frazee.
Lots of good buzz on this nearly wordless picture book. I can see this one winning. I'm a longtime Frazee fan.
Grandfather Gandhi - Arun Ghandi & Bethany Hegedus & Evan Turk
How great would it be if this was a winner? I love to think of generations of school children enjoying this title.
Have You Heard the Nesting Bird? - Rita Gray & Kenard Pak
Extraordinary Jane - Hannah E. Harrison
Firefly July - Paul B. Janeckzo & Melissa Sweet
Winter is Coming - Tony Johnston & Jim La Marche
Have You Seen My Dragon? - Steve Light
The Iridescence of Birds: A Book About Henri Matisse - Patricia MacLachlan & Hadley Hooper
Another wonderful biographical picture book. I'm rooting for it.
Viva Frida - Yuyi Morales & Tim O'Meara
This book is such a charmer!
The Book with No Pictures - B.J. Novak
I'm including this book, just to be ornery! I think it would cause such a stir to nominate this book for an award that goes to the best pictures.
The Noisy Paint Box: The Colors and Sounds of Kandinsky's Abstract Art - Barb Rosenstock & Mary GrandPre
I think people will go wild, if the American illustrator for Harry Potter wins for this book.
Aviary Wonders, Inc.: Spring Catalog and Instruction Manual - Kate Samworth
Such a strange and wonderful book. This could really be a winner.
The Adventures of Beekle: The Unimaginary Best Friend - Dan Santat
Henny - Elizabeth Rose Stanton
Bad Bye, Good Bye - Deborah Underwood & Jonathan Bean
Stella's Starliner - Rosemary Wells
Newbery Predictions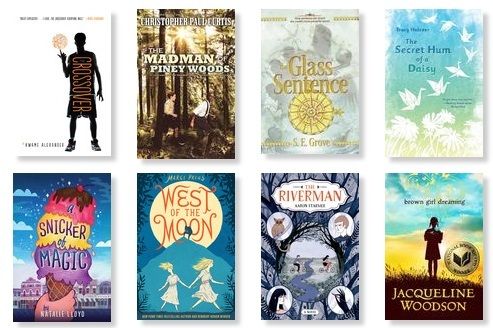 Crossover - Alexander Kwame
The Madman of Piney Woods - Christopher Paul Curtis
Lots of buzz for this one. Will multiple award winner Curtis snag the gold again?
Glass Sentence - S.E. Grove
Fantasy doesn't usually stand a chance, but maybe this one will come up with an award.
The Secret Hum of a Daisy - Tracy Holczer
A Snicker of Magic - Natalie Lloyd
This is the kind of thing that I'd love to see win. Magical and fun.
West of the Moon - Margi Preus
The Riverman - Aaron Starmer
Brown Girl Dreaming - Jacqueline Woodson
Okay, you heard it here first. I think this book is going to sweep multiple categories. I'm hearing so many wonderful things about it.