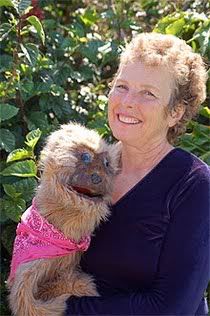 I was devastated to open my e-mail this morning and learn that Kathleen Zundell, local storyteller and puppeteer has lost her long battle with lymphona. There's a more complete eulogy
here
.
She and I worked together for many years at
Children's Book World
in Los Angeles. She was an inspiration to me as I was finishing up my theatre degree and delving into the world of storytelling for children myself. She and I shared the same birthday -- New Year's Day. I'll remember her best with a twinkle in her eye; with her wacky puppet Philbert accompanying her, as she led children seated on the rug in a song.
She will be greatly missed.