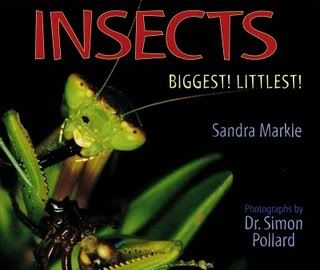 Insects Biggest! Littlest!
by Sandra Markle, photos by Dr. Simon Pollard
The cover of this book will grab you as surely that giant green praying mantis has grabbed the hapless spider it's eagerly shoving into it's maw.
Inside, fairly simple text suitable for 2nd or 3rd grade readers details the lives of insects of various sizes. Science terms and jargon are given parenthetical phonetic spellings to help readers sound out their pronuciation. The photographs by Dr. Simon Pollard are truly the star attraction of this book. The full-color close-up photos on each page are absolutely gorgeous.
The difference in scale is shown to best advantage in photos where other items are also pictured for reference. For example, the nearly 2 ft. long Giant Stick Insect of Borneo is shown climbing a tree, dwarfing the nearby man's hand. Also stunning is the photograph of the huge stag beetle on the final page, equal-sized to the human thumb it's firmly perched on. The Minute Pirate Bug, on the other hand, is simply shown sitting on a leaf. While we're told it's under an eighth of an inch long, it's difficult to judge the size based on the close-up photo. The Raja Brooke Birdwing butterfly and the Western Pygmy Blue butterfly shown on successive pages appear on nearly the same scale, and it's only through the text that we know the former is nearly a foot across, the latter, merely half-an-inch.
The one feature that would have made this book better for me, I would have loved, loved, loved an appendum with silhouettes displaying the subjects relative size, and unfortunately, there wasn't one. There is however, a world map indicating all the various bugs native habitats, as well as a selected bibliography and a few websites. Teachers and school librarians who are looking to freshen up their non-fiction shelves could do worse than this visually appealing photograhic journey. For kids who like bugs this book is sure to be a hit.
I borrowed this book from the library.