I don't know if I've really had too much jump out at me so far, and it is getting rather late in the day, isn't it? The first Newbery betting pool I ever joined, I predicted that Dear Mister Henshaw by Beverly Cleary would win and it did!!! And I've never picked a winner since.
If I had to pick some likely candidates for this year though, there's a few I might look at.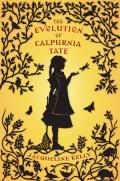 The Evolution of Calpurnia Tate by Jacqueline Kelly
A girl growing up in 1899 with a large family in Texas and is fascinated with science.
The language makes me think of Tuck Everlasting by Natalie Babbitt.

The Year the Swallows Came Early by Kathryn Fitzmaurice
Budding 11-year old cook Eleanor, aka "Groovy" must cope when her father is arrested for stealing the money in her trustfund.

The Chosen One by Carol Lynch Williams
Kyra struggles to escape her family's rural polygamist cult before she is forced to marry her own uncle.

We Can't All Be Rattlesnakes by Patrick Jennings
A wild snake is captured by a bully of a human boy, "pretending" to be domesticated while planning escape, she begins to find her will weakening.
A short book, but what an unusual protagonist!
Well, drat. Now that I've pointed out some books I liked, I feel certain that I may have jinxed them.