I kind of doubt that kids today will even know what an LP is. To be honest, cassette tapes and CD's were already the format of choice throughout most of my childhood, but I do remember those large black plastic discs that belonged to my parents and which were under no circumstances allowed to be played with. I also remember our local library had records. They weren't available for check-out, but you could listen to them if you signed up to use the record player, which included an enormous pair of heavy headphones. My favorites to listen to "Free to Be You and Me," by Marlo Thomas, an abridged version "The Scarecrow of Oz," by Frank Baum and, of course, "Frog and Toad Are Friends," read by Arnold Lobel.
Imagine my surprise then, when I started to notice several CD's using the image of an LP on their disc art.

Walt Disney's Fantasia
Leopold Stowkowski & the Philadelphia Orchestra
Walt Disney Records
2001 (1942)

Silly Car Songs
Treehouse Kids
Treehouse Entertainment
2008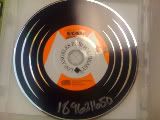 Mickey's Dance Party
Disney
Walt Disney Records
2001

Activate!
Joel Caithamer
Crooked Knees Records
2006

Lilo & Stitch 2: Island Favorites
Disney
Walt Disney Records
2005

Woody's Roundup: A Rootin' Tootin' Collection of Woody's Favorite Songs
Toy Story
Walt Disney Records
2000

Chickens
Buck Howdy
Prairie Dog Entertainment
2007
Plenty of Disney titles in there, but a couple of others too. I wonder if parents or teachers are tickled when they run across one of these.