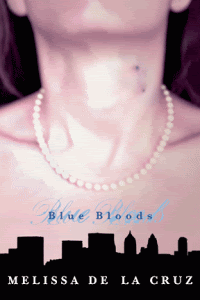 This series features absurdly wealthy teens in upper-class Manhattan, whose vampiric heritage is passed down from generation to generation. These vampires do sport fangs and occasionally drink blood, they are "immortal" in the sense that they are frequently incarnated, but other than that they don't share very many vampiric foibles such as problems with sunlight, crosses or garlic. Celebrity name-dropping and name-brand conciousness figures heavily here, as the students of exclusive prep school Duchesne: outsider Schuyler Van Alen, popular twins Jack and Mimi Force and Texan newcomer Bliss Llewellyn, gradually come to realize their true natures. The teen years are when new vampires are at their most fragile, and some uber-vamps known as "Silver Bloods" are hunting them. It gets a bit confusing at the end, with the revelation that the teens have been reincarnated over many centuries, with significant ties to the Roanoke Colony and Ancient Egypt. Some of the vampires are descended from arcangels, and many of them are in incestuous relationships. Jack and Mimi apparently were an item in past lives, something Mimi would very much like to resume. Jack is interested in Schuyler, who might or might not be his former wife, his mother and simultaneously his aunt. See? Confusing. Lots of suspense... is Charles Force, the twins father, a villain, or just a grouchy patrician? Is teen dreamboat Dylan human or vampire? Is Dylan innocent or is he the one responsible for Blue Blood murders, or is he just a pawn? The series reads a lot like Gossip Girls, and why shouldn't it, as the author is also responsible for the popular "
Au Pairs" series. This is a light, fluffy, quick read, promising a series worth returning to.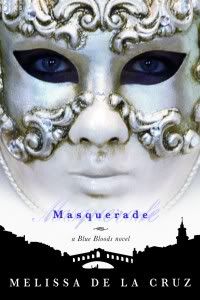 Masquerade: A Blue Bloods Novel

Here's the second offering in the Blue Bloods series. This one veers a bit (only a bit, mind you) from the formula of the first. There's slightly less brand-name dropping in this one, and a little more international intrigue. Schuyler's on the lookout for her grandfather, and she needs a human blood donor. She leans on her friend Oliver, who is (of course) secretly in love with her. Mimi is busy throwing the party of the century, and is eagerly looking forward to "bonding" with her twin brother Jack... who is secretly feeling really not so sure about the whole thing. Lots of confusing stuff about who's related to who... all the vampires are essentially avatars of saints, angels or gods and inter-related in various ways. Jack and Schuyler are kind of being established as a "better" couple than Jack and Mimi... yet, they are first cousins. Bliss is duped by Kingsley, an undercover agent, and is still pining for missing Dylan. Who are the real villains? Who are the Silver Bloods? It's still up in the air.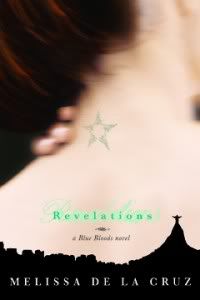 Revelations: A Blue Bloods Novel
Who is the Silver Blood murderer??? That's the big question. After the loss of her grandmother, Schuyler Van Alen is forced to live with the Force family, all the while carrying on a secret affair with Jack Force, much to his twin sister Mimi's dismay. Mimi is planning on marrying her brother and then using her hypnotic powers to mind-trick people into thinking that she was always his wife. In the meantime, Schuler's best friend from childhood, Oliver, is head-over-heels for her and his blood bond pretty much makes him her heartbroken slave. I am rooting for Oliver, poor guy. It also turns out that Bliss is the daughter of Lucifer himself and while sleepwalking has committed many crimes! Interesting stuff.
Melissa de la Cruz's take on vampiric reincarnation is unique but in looking at their incestuous relationships, their easy
money (invested carefully over the long term, natch) and their adventurous globe-trotting, in many ways this series feels like Anne Rice Jr.
Unfortunately, I haven't gotten the chance to read the fourth and most recently released book in the series, The Van Alen Legacy, but I'm confident that I'll get to it before the end of the year.
I borrowed all of these books from the public library.