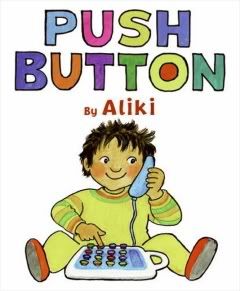 Push Button
by Aliki
Greenwillow Books
2010

Aliki returns with this cheerful examination of a modern toddler's life. Plenty of white space in each of the brightly-colored, bold-lined illustrations done in Aliki's trademark style makes each image really pop. The rhyming text and fun onomonopia noises make this a natural for storytimes. The endpages feature colorful round buttons labeled with letters of the alphabet, numbers or arrows. The unnamed boy's dark hair, tanned skin and pink cheeks reminded me of the rambunctious boy from All by Myself, another Aliki favorite.

What I loved about this book was the obvious sense of enjoyment the "push-button boy" gets from playing with the phone, his jack-in-the-box, getting to press the button in the elevator. When he injures his finger, he finds he has to turn to other, non-pushbutton activities. There's a subtle plug for reading, as he decides to open a book, and finds the images and words begin to flow off the page. Here, Aliki pays homage to Ashley Brian, George David Weiss and Bob Thiele's classic book What a Wonderful World. But, the "push-button boy" also passes the time gardening, playing with simple toys, cooking, painting, and playing an instrument. When his finger is all better, "That busy boy,/It's go, go, go./That Push-Button,/Page-Turning boy I know." There's very little sense of judgement, that "pushing buttons" or using technology is somehow a worse use of time than playing outside or reading, just the idea that these days, there's a wide smorgasbord of fun activities for toddlers to enjoy. I would recommend this charming story for ages 2 to 5.


I borrowed this book from the library.