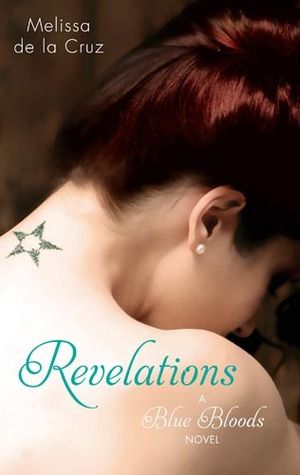 Revelations: A Blue Bloods Novel
by Melissa de la Cruz
Hyperion
October 2008

First line: "On an early and bitterly cold morning in late March, Schyler Van Alen let herself inside the glass doors of the Duchesne School, feeling relieved as she walked into the soaring barrel-ceiling entryway dominated by an imposing John Singer Sargent portrait of the school's founders."

Another fast-paced, fun installment in the Blue Bloods series, where wealthy New York teens, part of a secret cabal of reincarnated vampires, struggle for answers as they transition into their vampire heritage. Who is the Silver Blood murderer? That's the big question. Evil Silver Bloods prey on other vampires and the students at Duchesne are particularly vulnerable. After the sudden loss of her grandmother, Schuyler Van Alen is forced to move in with the Force family, all the while carrying on a secret affair with Jack Force, much to his twin sister Mimi's dismay. Mimi is planning on marrying her brother (her reincarnated soul mate) and then using her hypnotic powers to mind-trick people into thinking that she was always his wife.

In the meantime, Schuyler's best friend from childhood, Oliver, is head-over-heels for her and his blood bond pretty much makes him her heartbroken slave. I am rooting for Oliver, poor guy. It also turns out that Texas newcomer Bliss is the daughter of Lucifer himself and while sleepwalking has committed many crimes! Interesting stuff.
The Venator investigation continues, quietly naming Schuyler, Bliss, Mimi and Dylan as suspects and the investigation moves to Rio de Janeiro, eventually pulling Schuyler and Oliver from New York to Brazil.

Melissa de la Cruz's take on vampiric reincarnation is unique, but the vampires' incestuous relationships, their easy money (invested carefully over the long term) and their

adventurous globe-trotting, in many ways, this series feels like Anne Rice, Jr.
I borrowed this book from the library.