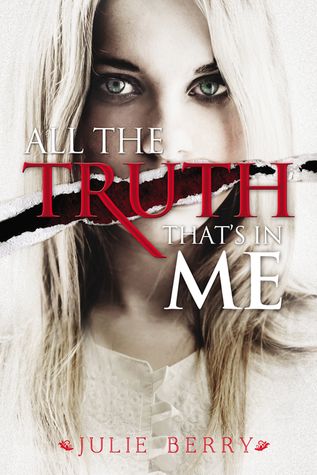 All the Truth That's In Me
Julie Berry
Viking Juvenile
September 2013
First line: "We came here by ship, you and I."
If Arthur Miller's The Crucible met Laurie Halse Anderson's Speak, this would be the result. Judith has survived years of harrowing captivity. Her kidnapper has finally released her from the tiny cabin that she's been trapped in, but not before cutting out her tongue. Judith returns to her tiny Puritan village, and faces the scorn and disgust of her neighbors who question her moral purity and shun her. Make no mistake, this is an intense read, with none of the light-hearted magical touches that fans of Berry's middle-grade fantasies may be accustomed to.
The book is addressed from Judith to Lucas, the young man that she's been secretly in love with for many years. Her obsession with Lucas, and her initial inability to speak has shades of The Little Mermaid to it.
Although everyone assumes that Judith was violated during her capture, she is unable to tell them what really happened. There's also the mystery of what happened to her friend Lottie who disappeared around the same time. Gradually, with the encouragement of her friend Maria, Judith opens up and begins practicing how to speak again. Against her mother's wishes, she tries to attend school, but even the schoolmaster sleazily demands "extra lessons" with her, with the gross implication that he's delighted she won't be able to report him for any impropriety. The theme of "finding her voice" is not too heavy-handed, and though it's a slow start, once you settle in to Judith's world, there's a very satisfying conclusion.
I can think of a few teens who were fascinated by the recent kidnapping case in Ohio who would want to pick up this intense novel. I'd also recommend this to readers of psychological thrillers.
Compare to:
Room - Emma Donaghue
I'd Know You Anywhere - Laura Lipmann
Speak - Laurie Halse Anderson
I received a free copy of this book.