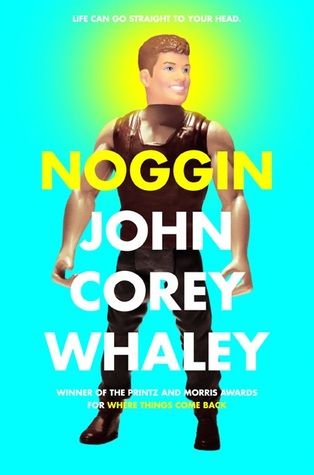 Noggin
by John Corey Whaley
Atheneum Books for Young Readers
April 2014
First line: "Listen - I was alive once and then I wasn't."
This sci-fi novel takes place in the very near future, and the ability to revive cryogenically frozen patients is brand new. Travis had suffered from leukemia as a 16 year old, and in part because he wanted to spare his family from their continuing grief over his imminent death and partly because he was tired of being sick and wanted to give up - he agrees to the experimental procedure.
Much to his surprise, he wakes up 5 years later, with his head attached to a new healthy body. He experiences this as being "in the future" and is only the second patient to have been revived.
His decision to return to high school and finish out his sophomore year stretched my suspension of disbelief - wouldn't he have just tested for his GED or something? That is really saying something, that I found this more unbelievable than the fact that Travis had been brought back from the dead.
Happily, there's very little attention given to the adjustment that Travis has to his new body. He's taller and healthier than he was before. He's got a nasty scar on his neck. And that's it really. Other than that, he's really ready to pick up and start living life again. I liked that he gets occasional advice from the first body transplant survivor, Lawrence Ramsey. Travis is also very conscious of the fact that Jeremy Pratt is the real reason he was able to come back. Jeremy's family donated his body after he suffered a brain tumor.
The main conflict of the story is that while Travis is still mentally and emotionally 16 - his best friend Kyle and his girlfriend Cate are now in their twenties. Kyle is trying to live in the closet and Travis is shocked that Kyle is trying to date a woman, even after privately confessing that he's gay. Travis is devastated that his first love Cate has moved on. She's engaged to someone else, and so, Travis starts a mad campaign to win her back. This was absolutely cringe-worthy! Travis engages in one awkward situation after another, hoping to worm his way back into Cate's heart. With the help of his new friend Hatton, Travis is able to find ways to cope with his new situation.
Plenty of twist and turns in the plot will surprise readers. I really enjoyed the way the final sentence of each chapter becomes the title of the next chapter. I read this book for my book club, and we all found a lot to discuss. The book ends rather abruptly - I would have loved a epilogue telling us how Travis is doing in a few years time.
Compare to:
Unwind - Neal Shusterman
A Long, Long Sleep - Anna Sheehan
Airhead - Meg Cabot
I purchased this book.