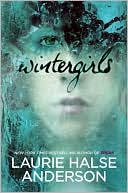 Wintergirls
by Laurie Halse Anderson
Viking Juvenile
March 2009
First line: "So she tells me the words dribbling out with the cranberry muffin crumbs, commas dunked in her coffee."
Eighteen year old Lia is struggling to complete high school in the wake of her best friend Cassie's death of complications from bulimia. Lia has been released from a treatment program for anorexia, but is still in the strong grip of disordered thinking and inaccurate body image. She continues to struggle with her weight, relying on cheap tricks such as gulping down a gallon of water and weighting her bathrobe with hidden coins during weigh-ins, to hide her continued weight loss from her stepmother, Jennifer.
To say that Lia is obsessed with calorie counting and food would be an understatement. Her every waking thought revolves around the pursuit of thin perfection. She even refers to her classmates by what they had for lunch, blonde tacosalad, pizzafish guy, or cheesefingers girl. Lia is wracked with guilt over her falling out with Cassie and blames herself for Cassie's dying alone in a hotel room.
I loved the strikethrough font which represented Lia's forbidden thoughts which she doesn't allow herself to say out loud. Lia is literally haunted by images of her dead friend Cassie, who silently urges her on in her mad pursuit of getting thinner.
The language is lyrical and adds a passionate intensity to Lia's inner world. Lia sees how much her little sister looks up to her as she weighs her options and decides if she wants to join Cassie in the world of the dead, or truly make a commitment to getting healthy and staying in the land of the living.
Compare to:
I Never Promised You a Rose Garden - Joanne Greenberg
The Best Little Girl in the World - Steven Levonkron
Speak - Laurie Halse Anderson
Letting Ana Go - Anonymous
I borrowed this book from the library.