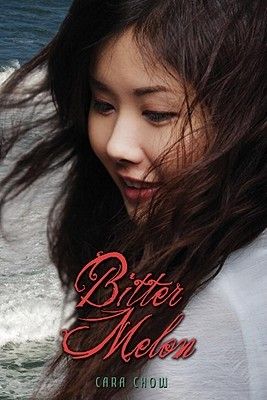 Bitter Melon
by Cara Chow
December 2010
Egmont USA
First line: "'Fei Ting, you are my reason for living,' Mom says to me. 'You give me a purpose for my suffering."
High school senior Frances is a timid and obedient girl, who only longs to excel in school so she can satisfy her mother's wishes of seeing her go to Stanford and become a doctor one day. This story was essentially Battle Hymn of the Tiger Mother... from the unhappy daughter's point of view.
Chinese-American Frances has grown up in a cramped apartment with her single mom in San Francisco. The story takes place in the 1980's and obviously, Frances doesn't have access to internet, cell phones or social media, making her isolation from the mainstream all the more possible. Frances is truly withdrawn and mentally beats herself up for always falling short of her mother's impossible expectations.
The mother in Bitter Melon is incredibly unlikeable. I would have liked seeing some more shades of grey for a more nuanced and compelling story. The book opens with a disgusting scene where Frances is being forced to massage her mother's stomach as her mother loudly belches due to her ongoing stomach problems. Even allowing for the fact that the mom is very hurt at being abandoned by her wealthy husband and forced to raise her daughter alone and close to poverty, it's impossible to work up any sympathy for her. She is tone-deaf to any of her daughter's feelings and seems to enjoy constantly putting Frances down, fearing that any kindness will make her daughter too soft. The mother's plan for Frances to go to med school so that she can treat her mother for free and finally work out her stomach problem seemed idiotic to me. It's hinted that it's a pretty serious problem, possibly even stomach cancer... wouldn't she be dead by the time her daughter finally finishes medical school?
Due to a mix-up at school, Frances finds that instead of being registered for Calculus as planned, she's been assigned a speech class. In a small act of rebellion, she decides to stay enrolled in the class, and begins competing in speech tournaments and winning. She also hides a crush on a boy from her mother, and starts to imagine what life would be like if she didn't pursue pre-med.
Frances finds a friend for the first time in her goody-goody cousin Theresa. She's spent years pitted against Theresa, due to their mothers' continual bragging and put-downs, but when Frances lets her guard down and trusts Theresa she is surprised to discover a valuable ally.
Ultimately, Frances house of cards comes crashing down when her mother finally discovers her complex web of lies. Surprisingly, Frances mom is on board with her new speech class, once she learns that Frances has been winning awards. She shifts gears, and begins to insist that Frances work towards becoming a newscaster or television personality, putting her daughter on a punishing diet so she'll look good for the cameras. Interestingly, Frances and her mother never really resolve their issues. For Frances, the only way to handle things is to start being more outspoken, contradicting her mother in public by challenging her mother's put-downs and finally, to secretly squirrel money away so that she can make her escape and lead her own life.
Compare to:
Everything I Was - Corinne Demas
Dirty Little Secrets - C.J. Omololu
Battle Hymn of the Tiger Mother - Amy Chua
What Can't Wait - Ashley Hope Perez
I borrowed this book from the library.