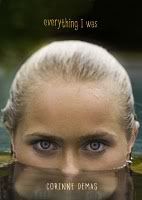 Everything I Was
by Corinne Demas
Carolrhoda Books
April 2011
Irene is thrown for a loop when her father loses his high-paying job and, unable to keep up with their fast-paced Manhattan lifestyle, her family is forced to sell their penthouse and move up north to stay with her paternal grandfather for the summer at his farm in up-state New York.

I was
surprised when I started reading this to find that the main character is only thirteen. The girl on the cover looks like she's seventeen, going on twenty-five. The fact that the protagonist is so young makes this a very different kind of story than what I had expected. Irene's not worried about how to pay for college, and while dropping out of her private school, and losing their Manhattan penthouse is upsetting, she's comforted by the opportunity to spend the summer on her beloved grandfather's farm, closer to nature. Irene has a schoolgirl crush on one of her teachers, but easily transfers her affections to Jim, one of the kids living down the street and the older brother of her new best
friend, Meg.

The real
villain of the story, I thought, was Irene's mother Andie, whose idea of "economizing" means ordering daisy floral arrangements instead of more expensive blooms, cutting back on going to the hairdresser a little bit and only buying one new pair of shoes a week. I was horrified by the way Andie childishly breezes through her husband's money, even after he's been laid off. Unfortunately, the mother never really grows or changes, unlike her daughter, who finds this to be a very formative summer. Irene gets the opportunity to reconnect with her older half-sister Jenna in Wyoming, enjoys making friends with the relaxed and playful Fox family down the street from her grandfather, and is happy to see her grandfather get a new chance at happiness with Lucia, a widow who runs the local gardening shop. There are a few moments of tension: will Irene's grandfather sell his land in order to finance a grand return to New York for Irene's family? Is Lucia responsible for a hit-and-run car accident? Everything is satisfactorily resolved by the book's end, however. I had assumed the story was set in present day, but a reference to Bonwit Teller, a department store that closed in the late 80's, suggests that it might be historical fiction. This book is marketed as YA, but it has the feel and cadence of a middle-grade novel. I'll recommend this to readers aged 9-14.
I received a free copy of this book from the publisher.