This week's topic from The Broke and Bookish is
Top 10 All Time Favorite Books
. (from the past 3 years) I had a little trouble narrowing it down to 10 - so I've rounded it up to a nice dozen. Here we go!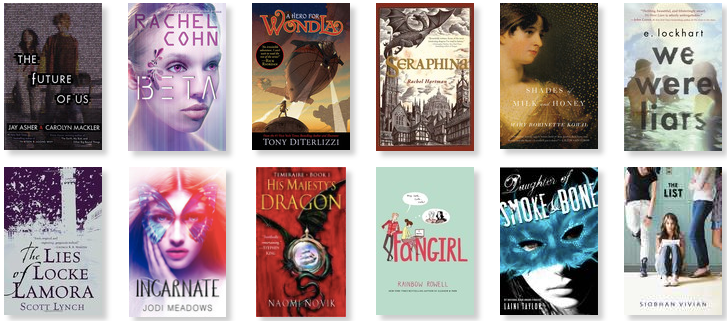 The Future of Us - Jay Asher & Carolyn Mackler
I loved this time-travelly adventure about the path not taken, as two teens from 1996 discover some kind of loophole in time revealing their future Facebook pages and their small decisions as teens affect their future 30 year old selves in large ways.
Beta - Rachel Cohn
This was so different from anything else I've read by Rachel Cohn. It's a quasi-dystopian about the struggles of a clone girl.
A Hero for WondLA - Tony DiTerlizzi
The second book in the WondLA series has Eva 9 discovering that she's not the last living human as she originally thought. The artwork and the Oz influences in this sci-fi series are fantastic.
Seraphina - Rachel Hartman
A half-dragon girl struggles in a medieval world setting. Loved it!
Shades of Milk and Honey - Mary Robinette Kowal
It's like Jane Austen... with wizards! Sold.
We Were Liars - E. Lockhart
I love a book with a great twist at the end, and this one is a doozy.
The Lies of Locke Lamora - Scott Lynch
Epic fantasy, starring one of the best rogues ever conceived.
Incarnate - Jodi Meadows
Another fantasy, about a girl newly arrived in a society of reincarnated souls.
His Majesty's Dragon - Naomi Novik
Napoleonic Wars... with dragons! Everything's better with dragons. That's just a fact.
Fangirl - Rainbow Rowell
I actually had a tough time picking out which Rainbow Rowell book to include. Eleanor and Park was so romantic and wonderful. But, I loved the twin sisters in Fangirl and the "excerpts" from the fanfic throughout this story.
Daughter of Smoke and Bone - Laini Taylor
Amaaaaazing! Wow. The world-building in this series is bar-none, some of the best ever.
The List - Siobhan Vivian
I love books with alternating chapters - this story featured a large cast of girls who each have been nominated for "the list" a cruel annual tradition at their school, which rates the prettiest and ugliest girls of each grade.