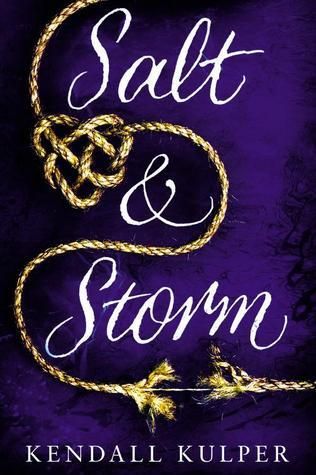 Salt & Storm
Little Brown Books for Young Readers
First line: "Despite my mother's best efforts, I never forgot the day my grandmother taught me to tie the winds."
Sixteen year old Avery Roe is descended from a long line of witches who offer powerful charms and protection to the sea-faring folk of Prince Island. Mysteriously, her mother eschews the tradition, preferring to live in town with her wealthy husband. Avery's grandmother is exhausted and nearing the end of her powers, but is waiting for her granddaughter to escape her mother's control and finally take the reins. During the late Victorian period, whaling is still a way of life for the islanders, but the worlds is changing fast, and magic in general seems to be on the wane. Avery is eager to tap into her magical heritage, but is stymied by remaining under her mother's thumb. She is able to interpret dreams, and sometimes has a flash of weather magic, but most spells remain beyond her ability. All she knows is that it is rumored that her family's magic is powered by pain. She tries cutting herself, which doesn't seem to help.
When she dreams of a whale being caught and slaughtered, she's certain that it prophecies her own murder. Desperate to gain access to her magic, she ends up enlisting the help of Tane, a tattooed South Sea islander with his own magical abilities. Tane sounds like a dreamboat - tan, handsome, and sexy. The two of them start an intense, secret romance.
The secret to the power of the witches of Prince Island was not hard to guess. It is only surprising that Avery takes so long to suss it out. Spoilers ahead: the witch's magical powers are powered by pain - specifically, the pain of losing a loved one. For generations, the women of the island have had a passionate love affair gone wrong, which ended in the heartbreaking loss of the man in her life, and a pregnancy with a girl child to carry on the tradition. Avery's mother thinks she will outwit the "curse" by deliberately getting pregnant with another man's child, and later settling down with her true love. She avoids explaining the ins and outs of how the magic works, in hopes of sparing Avery from becoming the next witch, which of course, completely backfires. The sudden death of Avery's love interest was disappointing. It seems that in a convoluted way, Avery's mother has found a way of breaking "the curse" of their family, which is just well, since witch's seafaring charms hold less and less value in an increasingly industrialized world. Even though Avery's mother is the "villain" of the story, readers will come to understand why her own tortured history and her love for her daughter causes her to behave the way she does.
Compare to:
A Great and Terrible Beauty - Libba Bray
A Drowned Maiden's Hair - Laura Amy Schlitz
House of Ivy & Sorrow - Natalie Whipple
The Vespertine - Saundra Mitchell
I purchased a copy of this book.