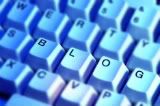 This week's topic from The Broke and the Bookish is a rewind week - pick your own topic. Here are 10 reasons I love blogging.

It's a great way to keep track of what I've read. Listing what I've read each month and doing a year-end review of what I've been reading is enormously helpful to me. I can go back and re-read a review to refresh my memory, or look at the list of what I've read and think about if I want to change what I'm reading in the upcoming year (more middle-grade, or more sports fiction, for example)

It's opened some great doors for me professionally. Because of my blog, I've been interviewed as a children's literature expert on CNN, had the opportunity to meet and hang out with New York Times bestselling authors and serve on book award committees. I'm also certain that it's been helpful in job interviews, as a kind of portfolio of work that I've done, especially in creating displays or hosting programs.
My blog has been a great way to meet people - other bloggers and librarians, especially at conferences. I enjoy challenging myself to try new things - reading other people's blogs is frequently an inspiration for me to try a new program or add a new book to my to be read list. And of course, I've had the opportunity to read Advance Review Copies and show off some terrific book hauls.