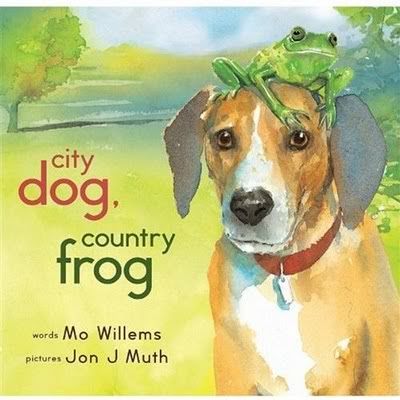 City Dog, Country Frog
by Mo Willems,
illustrations by Jon J. Muth
Hyperion
2010
Ostensibly a book about friendship and the seasons, as City Dog and Country Frog play and share throughout the spring, summer and autumn; the story takes a sudden, although not entirely unexpected turn towards loss. On City Dog's first day in the country, he encounters Country Frog sitting on a rock, "Waiting for a friend... but you'll do." In the spring, they play frog games. In the summer, dog games. In the fall, they reminisce about what a good spring and summer they've had. When City Dog excitedly runs out to Country Frog's rock during winter, "City Dog looked for Country Frog./Country Frog was not there." What follows is a gorgeous two-page wordless watercolor spread of City Dog sitting forlornly atop the rock, gazing out towards the leafless branches of the nearby wood. "That was winter." Devastating! I literally fell apart. This is so beautiful, so well-done and it's so spare. You know that Country Frog isn't coming back. He's gone.

In the following spring, a still sad City Dog is sitting by the rock, when he encounters Country Chipmunk. The story comes full circle when City Dog tells Chipmunk that he's "waiting for a friend" and after smiling "a froggy smile" he tells Chipmunk, "But you'll do."

Stunning watercolor illustrations and sensitive handling of a difficult topic earn this book my highest recommendation for ages 4-8.
I borrowed this book from my local library.