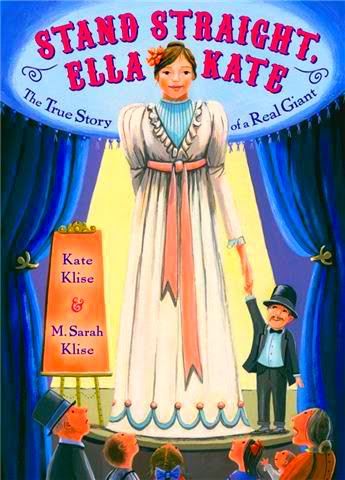 Stand Straight, Ella Kate: The True Story of a Real Giant
2010

This interesting book based on a true-life story of Ella Kate Ewing, born in 1872 and afflicted with gigantism (a disorder of the pituatary gland) causing her to grow to the startling height of 8'4" presents a not-so-subtle plea for embracing diversity. Her parents urge her to "Stand straight, Ella Kate!" but, shy and unhappy with being in the spotlight she slouches through childhood. "I was too big for the world." she says. As a teen she is offered the opportunity to take part in a freak-show. Despite her parents objections, she feels the money is too good to pass up, and leaves her Rainbow, Missouri farmstead for Chicago, where she makes a modest fortune for herself. Her opportunities to travel the world, in a time when travel was much more difficult, make her the talk of her small town when she returns to build a home scaled to her size. There's a note from the author in the back with additional biographical information and a photograph of the woman nicknamed, "The Gentle Giantess." The end pages of the book compare Ella Kate's height with averages for today, and include a life-size drawing of a boot and glove that belonged to Ella Kate. The loose acrylic paintings on Bristol board capture Ella Kate's tall stature, without making her seem too incredibly out of place with her surroundings. I would recommend this story with it's underlying message of self-affirmation for ages 5-8.

I borrowed this book from my local public library.