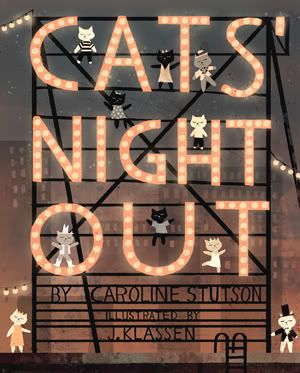 Cats' Night Out
2010

"In the city, windows light/How many cats will dance tonight?" As the sun goes down over the city, somber-eyed cats come out two-by-two to practice their dance steps. Each group of cats, appropriately attired in poodle skirts, red capes, pink tuxedoes, rhinestone boots and more, either boogie, tango, tap dance, foxtrot or conga on rooftops and through city alleyways, until finally, the neighbors call for some peace and quiet, "No more dancing on Easy Street!" The following page is punctuated by the startled cats now wide-eyed surprise, as they quietly slink away... at least, until the next night.

The digital illustrations are reminiscent of mixed-media watercolor and the brown, grey and muted tones capture the nighttime urban landscape perfectly. The cats, with their serious expressions as they sashay across the pages, are adorable. Truly eagle-eyed readers will spot hidden numbers woven into each picture, on signposts, above windows, carved on doorway lintels and the like. I found the "14" hardest to spot, but it is there. The rhyme is clever and infectious, keeping the story moving along nicely. Cats' Night Out makes counting by twos incredibly fun and would make a fabulous bedtime read.


I borrowed this book from the library.