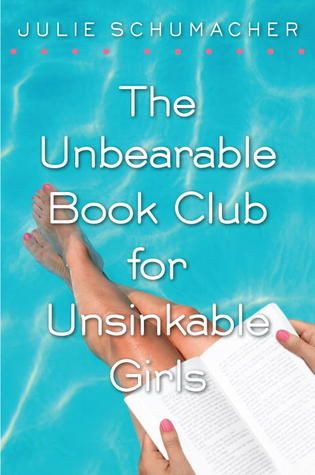 The Unbearable Book Club for Unsinkable Girls
by Julie Schumacher
Random House Children's Books
May 2012

Presented as an AP English essay assignment, with each chapter heading containing a definition of a literary term, this novel feels like a take on Ann Brashares's The Sisterhood of the Traveling Pants. Fifteen-year-old Adrienne Haus is laid up with a fractured kneecap for the summer so her mother forces her to join a mother-daughter book club. Wealthy, rebellious CeeCee; Jill, an adopted Asian girl; and mysterious, secretive Wallis are the other unlikely teen members. Adrienne is a moody, self-conscious girl, and the complexity of the relationship with her unflappable mother is a pleasure to read, especially as she falls further and further under CeeCee's bad influence. Exceptionally strong characterization and attention to detail thoroughly place readers in a summer suburb in Delaware. Teens need not have read all the classics discussed throughout the book (e.g., The Yellow Wallpaper, Frankenstein, The Left Hand of Darkness, The House on Mango Street , and The Awakening), although some familiarity with them certainly enriches the story. Adrienne is a thoughtful reader, applying quotes from each of the books to real-life situations. However, like Catherine in Jane Austen's Northanger Abbey , she lets her imagination run away with her and incorrectly dreams up horrible scenarios that lead to a highly foreshadowed, yet suspenseful, tragic ending.

I recieved a free copy of this book from the publisher.
This review first appeared in School Library Journal.