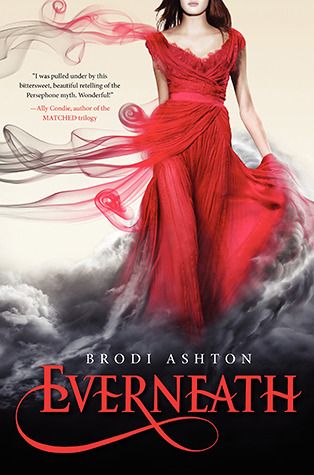 Everneath
by Brodi Ashton
Balzer + Bray
January 2012
First line: "I was picturing his face - a boy with floppy brown hair and brown eyes - when the Feed ended."
High school junior Nikki Beckett has been missing from her friends and family for the past six months and returns to them shaky and fragile. While her classmates assume that she's been strung out on drugs, and maybe returned from rehab, in fact, she's been taken underground into the Everneath for what felt like a hundred years.
Now she is torn between her old human boyfriend Jack - who has been nothing but loving and supportive while she has been coping with the death of her mother, and sexy dangerous Cole, the Eternal who initially tricked her into going underground - thinking that she wouldn't survive him feeding vampire-like off her energy for a century.
This story was loosely - very, very loosely based on the Hades and Persephone myth. There is quite a bit of a drug metaphor there too - Nikki is literally addicted to Cole and it is a struggle for her to give him up, even though he's ruining her life by leaving her with little to no energy as well as overly sensitive to sights, sounds and smells. This is a hardcore and unpleasant addiction - like heroine or meth, in the way that it takes over her life, leaving her feeling emotionless and flat.
The timeline is a bit disjointed. We swerve back and forth from present day to six months ago, with flashbacks and flashforwards. There's a countdown at the top of each chapter which rachets up the tension slightly - Nikki's been told that she has six months to spend saying goodbye to her family and her old life before she has to return to the Everneath for good, either to rule as their Queen, or to be punished in The Tunnels. The story ends on a bit of a cliffhanger... so you'll want to check out the next book in the series if you want to find out what happens.
Compare to:
A Long, Long Sleep - Anna Sheehan
Crave - Melissa Darnell
The Goddess Test - Amy Carter
I received a free copy of this book from the publisher.