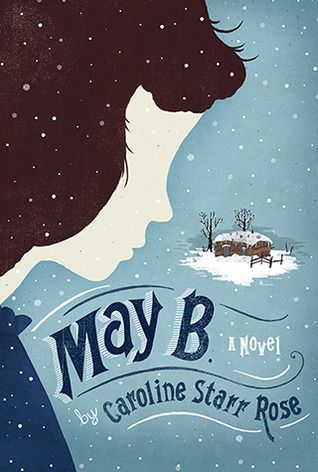 May B.
by Caroline Starr Rose
Schwartz and Wade
January 2012
First line: "I won't go."
Twelve year old Mavis Elizabeth Betterly is sent by her parents to help out a new couple settling on the Kansas prairie in the 1870's. Spare narrative poetry immediately conveys the feel for the lives of hardship that May and her family lead. Descriptions of pioneer food are particularly striking: fresh meat, tinned fruit, plenty of coffee, maybe a biscuit. May struggles in school, but is fighting to be able to finish, because she really wants to become a teacher one day. The deck really seems stacked against her: few people in their community acquire more than an eighth-grade education, her parents need her to drop out to work for them, she's a girl and therefore seen as unworthy of much schooling anyway and worst of all, she's struggling with undiagnosed dyslexia. She's madly jealous of her older brother Hiram, who doesn't appreciate all the advantages he's been given.
Life on the Oblingers' settlement is no easier than at home. Their sod house is poorly made, dingier and dirtier than most. The new Mrs. Oblinger, only a few years older than May, suffers from crippling depression and May is quickly overwhelmed and lonely.
Things come to a head when the Oblingers abandon May without warning, deciding that life on the prairie is too tough for them. May is forced to winter alone, until help will finally arrive. I found the ending a little over the top and unbelievable - May survives a fierce blizzard by the luckiest chance - but the target middle-grade audience probably won't mind.
Short chapters, and free verse make for a blazing fast read.
Compare to:
Hattie Big Sky - Kirby Larson
Out of the Dust - Karen Hesse
Little House on the Prairie - Laura Ingalls Wilder
I received a free copy of this book from the publisher.