Top Ten Tuesday is hosted by The Broke and The Bookish. This week's Top Ten Tuesday topic is: Top Ten Books Featuring Travel In Some Way (road trips, airplanes, travelogues, anything where there is traveling in the book!)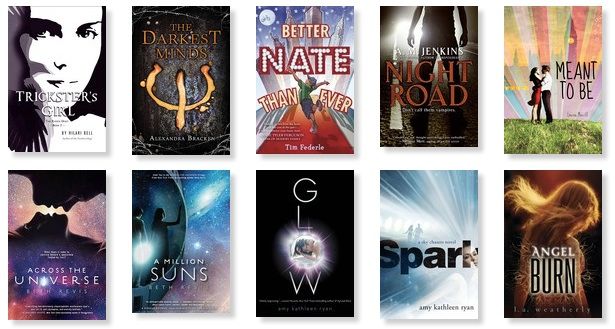 Trickster's Girl involves a girl on the run, traveling with a magical raven to heal the Earth's ley lines.
The Darkest Minds has a group of teens running away from an evil workcamp where all kids with psionic powers are sent to keep them away from the normal population.
In Better Nate Than Ever, Nate sneaks away for a weekend in New York, to realize his dream of auditioning for a Broadway play.
Night Road is one of my favorite books of all time. Vampires go on a road trip, to get a new rebellious vampire under control.
In Meant to Be, nebbish teen Julia goes on a class trip to London, meets a cute guy and learns to loosen up.
I feel like listing Across the Universe, A Million Suns, Glow and Spark is cheating, since this topic makes me think, "road trip" not "starship" but the topic does list travel of any sort, and you can't deny there isn't much further you can travel than into outer space.
Angel Burn involves a half-angel girl and a deadly angel killer who are forced on a long road trip together, and of course, fall in love.
Are there any great road trip books I'm missing? Let me know in the comments.