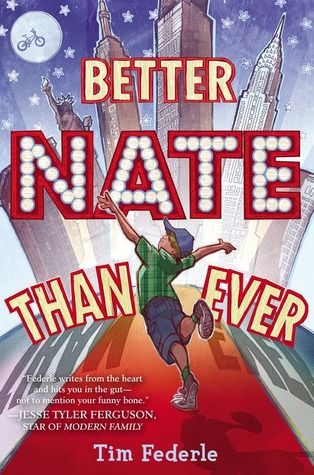 Better Nate Than Ever
by Tim Federle
Simon & Schuster
February 2013

Irrepressible 13 year old Nate Foster is certain that stardom awaits, as soon as he can leave his stifling life in small town Jankburg, Pennsylvania behind. Using his ever-loyal best friend Libby as an alibi, he sneaks away to New York City to audition for E.T.: The Musical. Nate and Libby have an endearing habit of using the names of Broadway flops as stand-ins for foul language. A madcap adventure, featuring bossy receptionists, cut-throat fellow performers, and wacky casting directors follows.
With the help of an understanding aunt, Nate remains goofy and upbeat in the face of constant criticism and rejection. A fun and suspenseful ending will leave readers guessing whether Nate scored the part or not. Federle's semi-autobiographical debut explores weighty issues such as sibling rivalry, bullying, religious parents and gay or questioning teens with a remarkably light-hearted and humorous touch totally appropriate for young audiences.


I received a free copy of this book from the publisher.
This review originally appeared in School Library Journal.