This week's topic from The Broke and the Bookish is: Top Ten Authors New to You in 2014.
I couldn't narrow it down to just 10! Once I whittled my list down to 14, I thought, "Ah! How appropriate!" So, here is my list of the top 14 new to me authors for the year.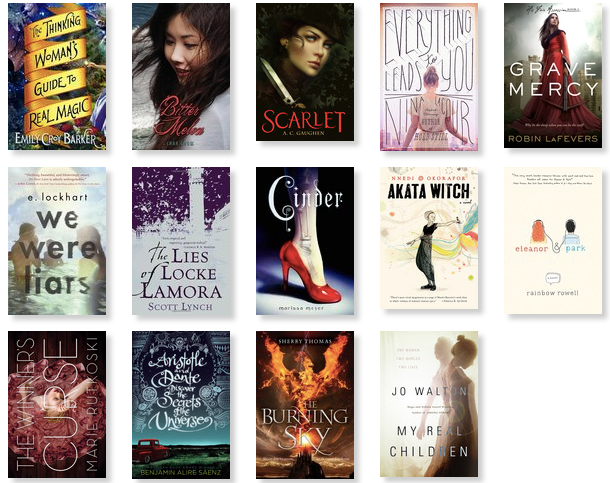 Emily Croy Barker - I must read more by this author! I loved The Thinking Woman's Guide to Real Magic.
Cara Chow - I loved Bitter Melon. It was hard to read at times, but you could tell it really came from the heart. Write more books, Cara Chow, and I will read them!
A.C. Gaughen - I already have the rest of her books sitting on my nightstand.
Nina LaCour - I love a story set in L.A. (one of my favorite places)
Robin LaFevers - Ah, Grave Mercy was loooong, but it was worth it.
E. Lockhart - I love surprise endings and was blown away by We Were Liars. I definitely have my eye on this author.
Scott Lynch - Amazing! Gentleman Bastards is the most amazing medieval mafia thief vs. magician's guild type story I have ever, ever read. If you haven't heard his guest appearance on the Writing Excuses podcast yet, you should definitely give it a listen to get a sense of what a rascal he is.
Marissa Meyer - Cinder was much lighter and more fun than I expected. What a fun world she's created.
Nnedi Okarafor - A totally unique voice, her books belong in every library.
Rainbow Rowell - Like everyone else, I am ready to hop on board with this relatively new YA sensation.
Marie Rutkowski - I like her world building.
Benjamin Alire Saenz - Wow, who says guys can't be sensitive?
Sherry Thomas - There will never be another Harry Potter, but I can always comfort myself by reading awesome magic boarding school stories.
Jo Walton - I love timey-wimey stuff, and her book My Real Children left things just open-ended enough that readers won't know which alternate timeline to root for.