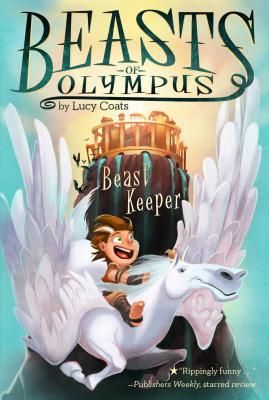 Beasts of Olympus: Beast Keeper
by Lucy Coats, illustrated by Brett Bean
Grosset & Dunlap
January 2015


The adventure begins when Pandemonius (called Demon for short,) the ten-year-old son of Greek God Pan, is unwillingly roped into a messy job as a stableboy caring for the mythical beasts of Olympus. While the story remains mostly true to the original mythology, plenty of humor and some modern slang is inserted, for example, when the hapless hero debates how to address his father Pan, "Your Godness? Your Holiness? Your Dadness?"


Scatalogical humor abounds as Demon copes with mountains of beast poo and flatulent Cattle of the Sun. Purposeful anachronisms such as robots and a computer-like machine made by Hephaestus, god of the forge, are presented as evidence of the Greek gods omniscient powers. Hercules is the villain in this tale as Demon works on doctoring up poor animals injured during Hercules Twelve Labors. Demon's magic ability to speak with animals comes in handy as he soothes cranky animals such as a bald Nemean lion, Stymphalian birds in need of new feathers and a Cretan bull that has lost his fire. Demon's biggest challenge is curing Hera's beheaded pet Hydra who requires some of Atalanta's magic apple. Energetic cartoon illustrations enhance the fast paced excitement. The book is appended with a glossary and pronunciation guide featuring all the major players in the Greek pantheon.



I received a free copy of this book.
This review originally appeared in School Library Journal.