This week's topic from The Broke and the Bookish is: Top Ten Books You're Looking Forward to in 2015.
Normally, I'd have trouble narrowing it down to just 10, but I've been feeling very choosy lately! Here are the ones that looked really appealing to me.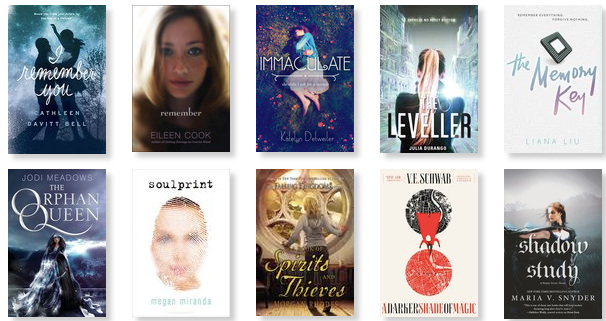 I Remember You - Kathleen Davitt Bell
Sounds a bit timey-wimey, with a teen romance imperiled by memories of the future.
A girl uncovers a conspiracy with her father's memory erasing company.
Immaculate - Katelyn Detweiler
A virgin finds herself pregnant... and no one believes her.
The Leveller - Julia Durango
A bounty hunter is hired to deprogram teens addicted to virtual reality.
The Memory Key - Liana Liu
In a dystopian world where everyone is losing their memories and must rely on a memory chips, a girl starts to doubt that her memory chip is working correctly.
The Orphan Queen - Jodi Meadows
Sounds like high fantasy with an imprisoned magical princess spy.
Soulprint - Megan Miranda
A girl is imprisoned because it's determined that she is the reincarnation of a famous criminal.
A Book of Spirits and Thieves - Morgan Rhodes
High fantasy, with travel between modern-day Toronto and and ancient fantasy kingdom.
A Darker Shade of Magic - V. E. Schwab
Fantasy which alternates between two very different Londons in the multiverse.
Shadow Study - Maria V. Snyder
A new spin-off of the Poison Study series.