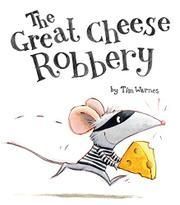 This British import features anthropomorphized elephants with a subtle nod to Babar. Patrick Elephant looks up to his Daddy who isn't scared of anything, except, of course, for mice. When a cheeky mouse arrives at their doorstep and demands to inspect their household supply of cheese, Daddy Elephant is unable to stop cowering long enough to stop him.
Before they know it, an army of hungry mice arrive to remove the rest of their food, their refrigerator and most of Patrick's toys, ostensibly for "health and safety" reasons. Fortunately, Mommy Elephant arrives just in time to save the day and restore order. Warmly hued endpapers use a repeating elephant design.
I received a free copy of this book from the publisher.
This review originally appeared in School Library Journal.