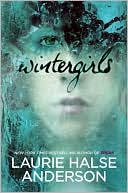 This past week, I had the opportunity to see Laurie Halse Anderson give a presentation and book signing. She was tall and slender, with long brown hair and a very relaxed, hip vibe. I was surprised, because she always looks so serious in her headshots!

There was a group of teens in the audience who showed up to get extra-credit for a high school English class. She won them over right away by asking if they had any quizzes on any of her books coming up, and if so, she'd be happy to help them "cheat" by telling them all the answers. She talked about how she feels the "classics" are overused in high school. She spoke at length about The Scarlet Letter, and how, as a teenager, she hated it! None of the symbolism made sense to her. She advocated for giving teens books about current topics that they are interested in and pointed out that the classics weren't going anywhere... you have your whole life to tackle them. Some of the issues covered in the classics seemed more relevant to her once she had the life experience to process it.
She showed off her literary tattoo, the first word from Beowulf, "Hwaet!" on her wrist. She chided her friend and fellow author, Sonia Sones, who was in the audience, "Where's your tattoo? C'mon, life's short! Ya gotta get some ink!" The teens in the audience all laughed at that remark. Her daughter has a matching tattoo, and she jokingly suggested that, these days, getting a tattoo together could be a great bonding activity to do with your parents.
She told us quite a bit about her new book, Wintergirls, about a girl who is haunted and struggling to overcome an eating disorder. It sounds like there are a lot of Persephone (from the Greek pantheon) references in it, as well as some Sleeping Beauty themes. And she talked a little about Speak, and how the publisher is coming out with a 10th anniversary edition. I only recently learned that Speak had been made into a movie a couple of years ago and she spoke a little bit about that as well. It was made for a very low budget, just about a million dollars. But it starred the then-unknown Kristen Stewart, now of Twilight fame. Anderson admitted that she's not much of a Twilight fan, and doesn't read much YA fiction at all, partly because she's a picky reader, but mostly because she prefers to write her own stuff.
I'm glad I got the chance to see her, as I don't think she visits the West Coast that often. I tried snapping some photos, but sadly, they're all so blurry, none of them turned out! Even though Wintergirls sounds like it will be a very intense read, I'm now eager to get cracking at it, once my "books to be read" shelf dies down a bit.