Halloween has always been my favorite time of year. Dressing up, costumes, candy, what's not to like? I'm just gutted that my new library won't be open at that time! Normally, I love to throw a Halloween party for the kids, with ghost stories, coloring contests and the like.
I enjoy working with felt, and last year decided to try my hand at making some felt puppets. Here are the results.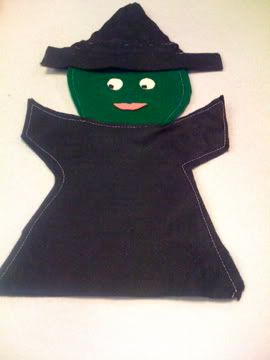 I'm very pleased with the way that this witch looks. I might have tried to find a slightly paler shade of green for her skin, but this was what I had handy at the moment. The main problem is that her hat makes her a bit top-heavy. I should find some way of supporting her hat better. Maybe some chenille stem supports, wired inside?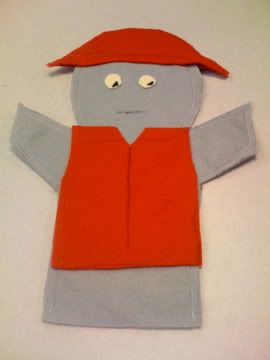 This troll looks alright. He doesn't necessarily look terribly "trollish" but, I think that gives him a bit of versatility. I put him in a vest because I always picture trolls wearing vests.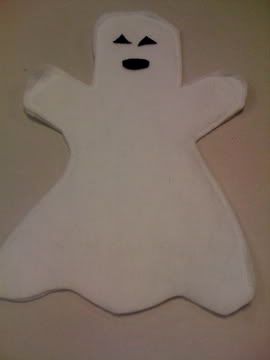 I'm pretty happy with this ghost. You can get some good motion going with his arms.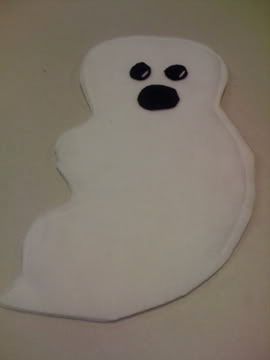 This ghost is also a success. He has a much smaller range of motion, but he looks great gliding back and forth.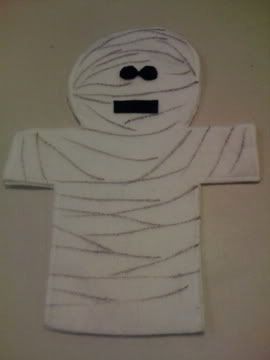 This mummy is by far, my favorite. With his arms so straight, he looks quite zombie-like when he moves about. This puppet was easy as pie to whip together. I drew the lines of his "wrappings" with fabric marker, and he's instantly recognizable. I tried several different shapes for his mouth, but this simple rectangle seems to work best.