Last week, I made it out to the annual
West Hollywood Book Fair
. It's certainly a much smaller and easier book festival to navigate than the gargantuan
Los Angeles Festival of Books
that
I attended earlier this year
. The organizers estimated a crowd of 40,000 for the West Hollywood Book Fair, compared to a whopping 130,000 for the Festival of Books. To be honest, I think 40,000 might be a tad generous. The Fair did manage to feel bustling but not overwhelming. I was only there for 3 or 4 hours, but I managed to see a lot. The weather was just perfect, with just a hint of snap in the air and clear blue skies.
New this year, I noticed several reading tents set up. I loved them! So simple and cozy with plenty of soft chairs to plop down on with one's latest finds. I confess, I expected to see a corporate sponsor for the reading tents, and was a little pleased and surprised when there didn't seem to be one.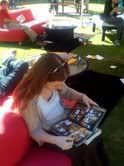 One of the first things to catch one's attention was the
yaoi
booth set up prominently at the Fair entrance. Oh my!
A little further in, I found this Halloween themed booth.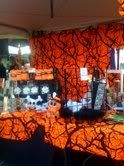 I'd hoped to see Francesca Lia Block, who was signing copies of her newest book, Wood Nymph Seeks Centaur, but unfortunately, I missed her. I did run into June Sobel who was signing over in the children's area though! Other random celebrities present that weekend included Bob Barker and Carol Channing.
I hit up a couple of science-fiction/fantasy panels. A group from World of Warcraft publishing gave a presentation about their upcoming line of tie-in novels. I also listened in on "
Comics on Comics
" a group of podcasting comedians who provide commentary on comic books.
The children's area had a craft table that looked pretty busy, and several presentations of Shakespeare by kids, some in costume, paraded across the kids' stage. Teens were occupied on the mikes, sharing poetry.
Halloween's around the corner, so I was glad to see this ghost-stories tent. Inside was sufficiently darkened to lend a spooky atmosphere to the dramatic readings shared.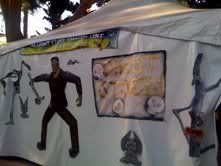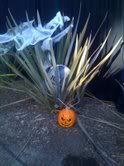 There was plenty of swag to be had at this Fair. Much more than usual. I lucked out and happened to win a raffle prize of free books right away. I also got several recycled cloth bags. I wasn't shy about snagging some kids' posters for my library, either. Speaking of which... the Federal Trade Commission is cracking down on freebies for bloggers. It occurred to me, as I was leaving West Hollywood that I hadn't really mentioned my blog to anyone. I'm fairly confident that none of the free books I received were in consideration of that. I will start mentioning where I've acquired my books in future reviews, however. I'll have more to say about that in upcoming post.