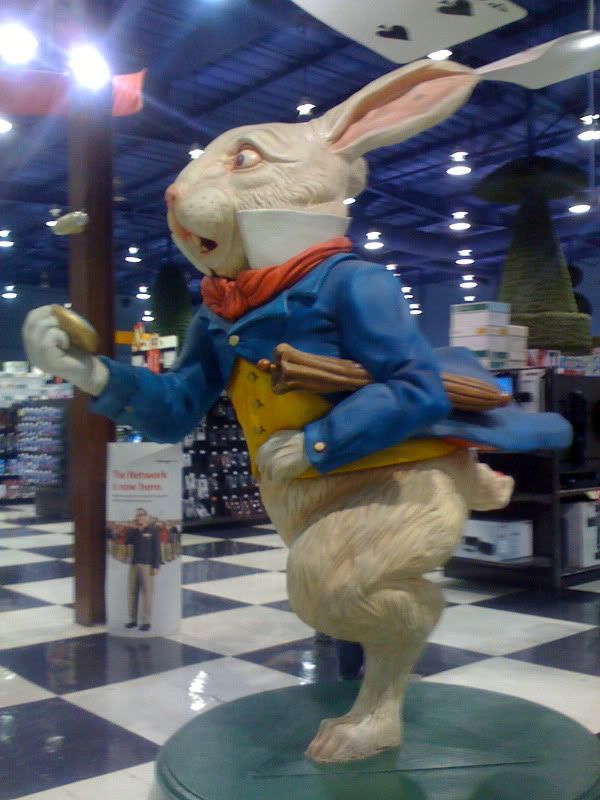 Tim Burton's cinematic version of Alice in Wonderland is coming to theatres March 5 (today!). Naturally, all my editions of the original classic by Carroll are checked out, so I'm recommending the following books, for the following reasons.
Are you looking for that classic feel?
Try these:

The Little Prince
- Antoine de Saint-Exupéry
A downed pilot in the Sahara encounters a young interstellar prince in this French fable about the important things in life.

The Phantom Tollbooth
- Norton Juster
Bored Milo takes a trip to the magical land of Dictionopolis where he attempts to rescue twin princesses Rhyme and Reason from the Mountains of Ignorance.

The Secret Garden
- Frances Hodges Burnett
Ten-year-old orphan Mary Lennox, raised in India, returns to Northern England and discovers a secret garden hidden there.

A Little Princess
- Frances Hodges Burnett
Young Sara Crewe survives her misfortunes in Victorian England by escaping to a world of her own imagination.

Pippi Longstocking
(series) - Astrid Lindgren
High-spirited redhead Pippi lives a carefree existance with her pet monkey and horse in Villa Villekulla.

Peter Pan
- J.M. Barrie
Three siblings are whisked away to a Never-Never Land of adventure when they cross paths with Peter Pan, the boy who refuses to grow up.


Do you enjoy the fact that Alice is transported to other worlds?

Try these:

Gregor the Overlander
(series) - Suzanne Collins
Gregor and his baby sister are pulled down a strange rabbit-hole-esque underground where they battle giant talking bats, rats, cockroaches, and spiders while on a quest to save their father.

Peter and the Star Catchers
(series) - Dave Barry and Ridley Pearson
Based on the classic novel by J.M. Barrie, Barry and Pearson continue the adventures of Peter, Tink and a crew of "Starcatchers" who struggle to keep magical stardust out of the hands of evil-doers.

Larklight
(series) - Philip Reeve
Steampunk for the younger set. Reeve's books follow the adventures of Art Mumby, his sister Myrtle and space pirate Jack Havock travel through the British Empire's outer colonies of the Moon, Mars, Jupiter and beyond. Check out my review of Mothstorm, the third and final installment in the series.


Need a story about brave, intrepid girls, calmly facing danger?

How about these:

Coraline
- Neil Gaiman
Coraline must rescue her parents from the "Other Mother" in a mirror-world to our own. Adults will find the tale menacing, children see only the excitement and danger that Coraline faces. Check out the graphic novel, adapted by P. Craig Russell, as well.

Molly Moon's Incredible Book of Hypnotism
(series) - Georgia Byng
Orphaned Molly discovers a book on hypnotism and begins changing her life for the better. This book has an English feel with plenty of over-the-top baddies.


For a little bit of an older reader, I'd try these:
Looking Glass Wars
(series) - Frank Beddor
Directly inspired by Carroll's classic, here Alice must fight to return to Wonderland and claim her rightful throne.

A Great and Terrible Beauty
(series) - Libba Bray
Gemma Doyle resists her role as meek Victorian debutante by escaping to a magical world called The Realms with three of her friends. Teens will enjoy this richly imagined gothic fantasy.

Down the Rabbit Hole
- Peter Abrahams
13-year-old Ingrid finds herself amidst a murder mystery set in a small town, when one of the actors from the local production of Alice in Wonderland is found dead.

Alice, I Have Been
- Melanie Benjamin
Historical fiction based on the life of Alice Liddell the real-life inspiration for Charles Dodgson, a.k.a. Lewis Carroll.