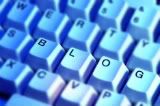 A year ago today, I started this blog!
How tremendous! I've really enjoyed doing it, and have learned so much and improved a lot about myself while putting it together. It's given me the opportunity to
review books
that I might not otherwise gotten the chance to. I've met
new friends
and, of course, have been able to to
discuss
any and all matters kidlit. Blogging has opened a number of professional doors for me too... I've been able to
meet
and
interact with
authors that I ordinarily wouldn't have met. Amidst all the doom and gloom of the recent tight economy, this blog has been a bright spot for me.
Thanks for reading and commenting, everyone, I look forward to another great year!