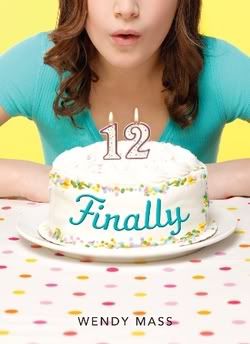 Finally
by Wendy Mass
Scholastic
2010

Rory Swenson just can't catch a break. She's been waiting for what seems like forever for her 12th birthday. According to her parents' rules, that is the magical age when she'll finally be able to partake in many formerly forbidden activities such as wearing contact lenses, getting a pet, owning a cell phone, piercing her ears, and staying home alone. Now that the day has finally come, she finds that growing up isn't as satisfying as she imagined. She's completely unprepared for the minor disasters that result: her new pet bunny seems homicidal; staying home alone is scarier than she thought; and her attempt at having her ears pierced reveals an allergy to gold. The only silver lining is her growing friendship with movie-star Jake Harrison, who is filming at her school. There's a nice twist at the end, when the many good deeds Rory has done without thinking of herself pay off, and she realizes that her misfortunes are minor. This novel pairs well with Mass's 11 Birthdays, but it stands on its own. Children will relate to this warm, funny story of a heroine who can't wait to grow up.


I received a free copy of this book from the publisher.
This review first appeared in School Library Journal.