Last week I had the opportunity to volunteer at The Center for Puppetry Arts for an event honoring Mr. Rogers' Neighborhood. David Newell, who played the loveable delivery man, Mr. McFeely, came to the Center to talk about his memories from the show. In conjunction with the event, The Center for Puppetry Arts hosted a sweater drive to benefit the Children's Restoration Network which supports homeless children in shelters and group homes. I was pleased to see so many people generously giving brand-new sweaters and jackets. They will be continuing to collect sweaters at the Center until the end of the month.

The talk that Newell gave was lovely. What I had not realized was that in addition to playing the role of Mr. McFeely, Newell also worked quite a bit behind the scenes and was deeply involved with many aspects of the show, including writing, booking guests, PR and marketing. What had been intended as a 45-minute talk stretched into two hours, as Newell shared video clips and anecdotes about how the show got started. Overall, you got a sense of what an incredibly warm, funny and generous person Fred Rogers was.

Newell shared the story of how his character got his name. In the original script, the delivery man character was to be called Mr. McCurdy. Having gotten funding for the show to air on National Education Television (which would later become PBS), about 20 minutes before they were to begin taping, their sponsor called them. It seemed one of the VP's at Sears and Roebuck (their sponsor) was named Mr. McCurdy, and wanted the name changed. On the spot, Fred Rogers turned to Newell and said, "Okay, your name is now McFeely" - which was Rogers' own middle-name, and the name of his beloved grandfather.

In one clip that Newell shared, Mr. Rogers actually took his puppets from the land of make-believe and talked about how he operated them. King Friday sang his own version of Row, Row, Row Your Boat which used the following words:
Propel, propel, propel your craft, lightly down the liquid solution!
Ecstatically, ecstatically, ecstatically, ecstatically, existence is but an illusion.

What I noticed about this clip was that when Rogers brought out the Prince Tuesday puppet, as he explained that he didn't do the voice for Tuesday, he held the puppet gently in his hands, but did not use the puppet, as he had with the others. I think that was just the kind of subtle, thoughtful gesture that was so characteristic of the kind of man that Fred Rogers was.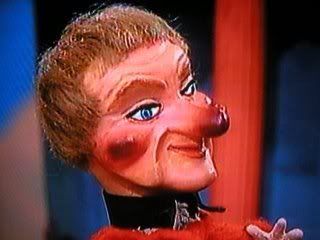 During the question and answer period, many people in the audience wanted to know what the heck was up with Lady Elaine Fairchilde. With her oversize red nose and cheeks, and troublemaking manner, she's always made me think of the classic Punch and Judy. Newell explained that they used Lady Elaine to represent a mischievous side of children's personalities, and especially to discuss discipline issues.

This was a really wonderful evening. I enjoyed mingling with many of the attendees, all of whom seemed like incredibly thoughtful, gentle people themselves!