4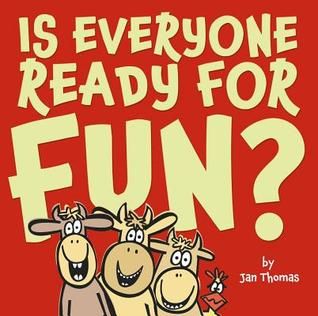 Is Everyone Ready for Fun?
by Jan Thomas
Beach Lane Books
September 2011

I love Jan Thomas! This book is funny and fun - great for reading with groups, so kids can jump and wiggle along with those wacky out-of-control cows who are jumping on chicken's sofa. Repeating lines, "Is everyone ready? Is everyone ready for FUN?" add to the manic appeal. Colorful, easy to see digital art. A sure-fire winner at storytime.

I borrowed this book from the library.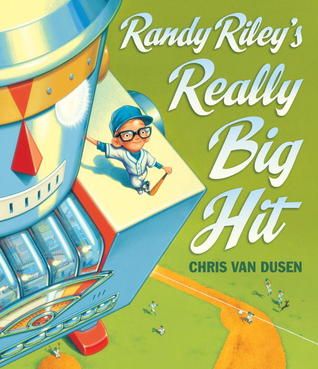 Randy Riley's Really Big Hit
by Chris Van Dusen
Candlewick Press
February 2012

Written in a rhyme-y, rollicking style, nerdy kid Randy loves science and astronomy, but is a flop on the baseball field. One night, he notices an asteroid heading straight for Earth and works on a secret project out back - a giant robot, who uses a chimney stack as a baseball bat to knock the fireball clean out of sight. Colorful gauche illustrations employ a strong mid-century retro aesthetic, in a surburban neighborhood of tract homes. Lots of boy appeal in this one!

I borrowed this book from the library.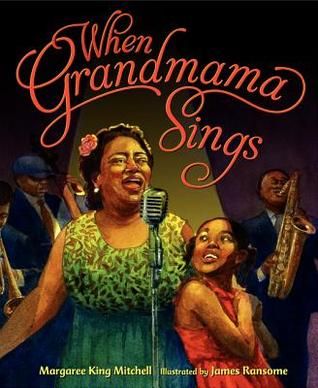 by Margaree King Mitchell
Amistad Press
January 2012

Grandmama, a contemporary of Ella Fitzgerald, travels through the racist, segregated South on a musical tour with her band. While the characters are fictional, the feel is very realistic. The band undergoes many hardships: being forced to eat outside in their cars after paying good money at a diner, frequently being pulled over by intimidating highway patrols, sometimes being cheated out of their pay after playing a gig. Grandmama's grit and determination and love for her granddaughter see them through.

I borrowed this book from the library.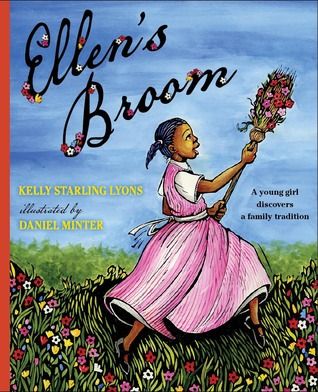 by Kelly Starling Lyons
Putnam Juvenile
January 2012

I was really charmed by this antebellum story telling about the complex history of "jumping the broom" at African-American weddings. Ellen's parents are eager to put the past behind them when they are finally able to legally wed at a courthouse after slavery has ended. Ellen reclaims and transforms the tradition into something positive, by decorating the family broom with flowers. The book is illustrated with beautiful full-color linoleum woodcuts.

I borrowed this book from the library.