Top Ten Tuesdays is a meme hosted by The Broke and the Bookish. This week's question is: What are your Top Ten Blogs/Sites you read that aren't about books?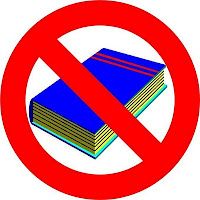 Wow! This could be a tough one as I'm pretty book-obsessed. Let's see.
1. BoingBoing.net - for funny/interesting news and just random things from around the web.
2. reddit.com - more internet randomness, sometimes a little more sexist or gross than I would like, but still interesting.
3. jezebel.com - feminist news.
4. City Data forums - I have moved around the country a lot, and I found their forums really interesting and helpful. Now I still read them to keep up with what's going on in some of my favorite cities.
5. Pinterest - It's easy to find me on Pinterest - I'm madiganreads!
6. Ninjawords.com - my favorite online dictionary. I know this one is skirting pretty close to "about books" territory, but it's not technically about books, so...
7. Twitter - Twitter can be about anything you want it to be, depending on who you follow and who you unfollow. For me, Twitter is pretty bookish, but it doesn't have to be. Again, I'm easy to find - I'm @madiganreads.
8. The Nest - I started reading this as a newlywed, and never really stopped.
9. Yahoo - Their newsfeed is another good timewaster.
Aaaaand... I'm out of ideas! Yup. Can't think of 10 non-book sites. I came close though!