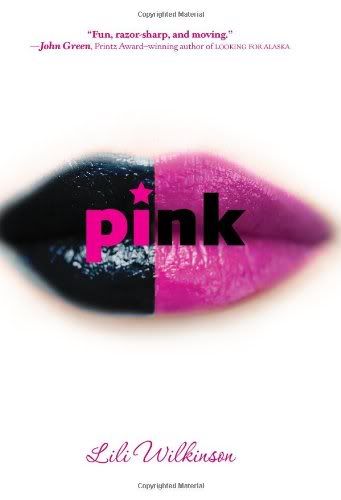 Pink
by Lili Wilkinson
Harper Teen
February 2011

You ever feel like having a "do-over"? Just picking up, and creating a completely new identity -- a whole new life? The teen years are the perfect time for doing this. And that is exactly what 16 year-old Ava wants to do. She wants to transfer schools and reinvent herself. She's feeling smothered in her relationship with too-cool-for-school girlfriend Chloe. Ava's ultra-liberal college professor parents are excited to embrace her gothic punk-rock style and budding lesbianism. And weirdly, Ava's finding their complete and total support not quite what she was expecting. She was kind of hoping to rebel... and it seems like right now, the best way to be a rebel would be to wear pink, date boys and study hard at school.

The story takes place in Australia, but it didn't feel overwhelmingly "Aussie" at least, not to me. I wondered if some of the Australian slang could have been edited out for the American version?

Ava's attempt to star in the school play at her new school backfires, and she ends up working with the backstage crew. I loved all the characters who made up the backstage crew, or "Screws" as they dub themselves. They seem like a really warm and funny group of friends. Ava begins to develop feelings for fellow crew member Ethan... even though she hasn't exactly gotten around to officially breaking up with Chloe yet. Yikes!

My only quibble with the book is that (spoilers ahead!) because this is a story about Ava questioning her sexuality and discovering that she's bi, I felt like the story was a little heavy-handed in places. Does she still like Chloe, despite Chloe's overbearing and condescending manner? Yes - because she's definitely attracted to women and she and Chloe do have a shared history together. Does she like Ethan? Of course, because he is a total sweetie. She also is attracted to Alexis, one of the popular and very feminine girls at her new school. Why? Mainly, to remind readers that she isn't straight, I think. Ava ends up alone by the end of the book - which is not a bad thing in and of itself. But, I felt that too, was a bit forced - to "prove" to the readers that she wasn't gay (since she didn't go back to Chloe) and that she wasn't straight after all (which is what some readers might think if she had ended up with Ethan.)

I loved this book. It's rare to find a novel that covers bi and questioning teens so believably and so well.


I received a free copy of this book from the publisher.