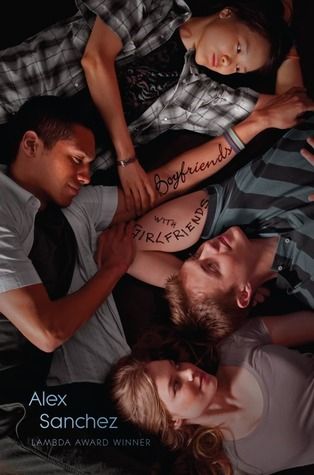 Boyfriends with Girlfriends
by Alex Sanchez
Simon & Schuster Children's Publishing
April 2011

In this contemporary ensemble story, four high school friends; gay, lesbian, bisexual and questioning, wrestle with their identities. Lance is comfortably out of the closet and is blessed with a very supportive family. His best friend Allie is straight. He brings her along on a group date to meet Sergio, a new guy that he's interested in. As far as Lance is concerned, Sergio's insistence that he is bisexual is only a minor hitch - surely Sergio will come all of the way out of the closet, soon, right? In the meantime, Allie is intrigued by Sergio's best friend Kimiko. Allie's been dating loveable yet lunk-headed athlete Chip for some time. Allie's always liked manga, and she and bookish tomboy Kimiko connect right away. They do end up kissing, which has Allie wondering, maybe she's not so straight after all? Kimiko's disapproving Asian mother is the main reason why Kimiko decides to remain in the closet for now.

I wished that each of the characters had been more distinctly drawn. Each of the four teens are somewhat socially awkward, and of course spend a lot of time thinking about their sexuality. All of them have a constant, restless scheming quality, "How can I tell if so-and-so likes me?" "If I say such-and-such thing, will that impress the person I have a crush on?" "How far can I get so-and-so to go with me? How far do I want them to?" After a while, the characters collective angst becomes exhausting. While the book is notable for its frank discussion of teen sexuality, plenty of the inner monologues of each of the characters felt a bit repetitive and forced.

I borrowed this book from the library.