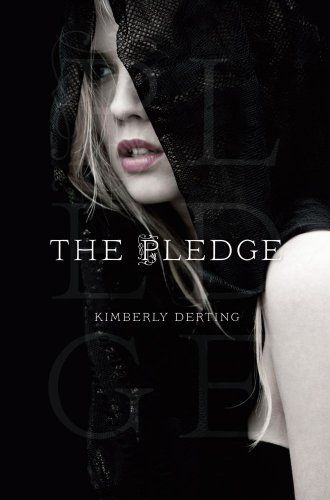 The Pledge
by Kimberly Derting
November 2011
Margaret K. McElderry

The Pledge takes place in a dystopian world where everyone is strictly divided by castes who each speak different languages. Seventeen year old Charlaina Hart is hiding a secret - somehow she is able to understand any language. She and her family are part of the vendor class; not the lowest class, but far from the top.

They are ruled over by a matriarchal lines of queens, and as readers learn from the prologue, the evil queen has been magically extending her life.

Even though I found it unbelievable that no one seemed to have any curiosity or ability to learn other languages, it was still a really compelling world. I liked Charlie's circle of friends, flirtatious and daring Brooklynn and her best friend Aron. Charlie soon meets a group of rebels and feels an instant attraction to a city guard named Max. When rebels attack the city, Charlie feels she must protect her younger sister Angelina, who is mute. I felt this was very similar to the Katniss/Prue relationship from The Hunger Games.

There was a lot in the story that I found predictable. I had figured out the source of Charlie's ability within the first few pages, and I thought making four-year old Angelina mute was a way to avoid fully fleshing out that character. Angelina was a bit of a McGuffin, you know? Still, there were some really good plot twists and a surprise cliffhanger ending. I'll recommend this to any fan of dystopian who doesn't mind a bit of paranormal edge.


I received a free copy of this book from the publisher.