Dixie and the School Trip
by Grace Gilman, illustrated by Sarah McConnell
HarperCollins
June 2012

What is it with adorable, rambunctious dogs lately? Seems like everywhere you turn, there's another series for kids featuring a hapless canine. Dixie the Dog keeps Carl, Biscuit and Marley in good company. In this installment, Dixie the Dog sneaks aboard for a school trip to the dinosaur museum and creates chaos by leaving bones everywhere. Hilarity ensues.

I borrowed this book from the library.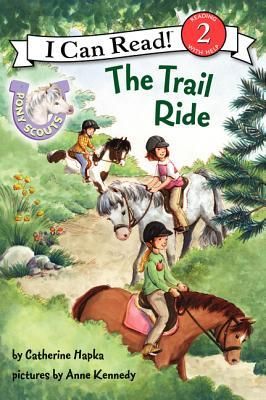 Pony Scouts: The Trail Ride
by Catherine Hapka, illustrated by Anne Kennedy
HarperCollins
June 2012

Naughty pony scouts sneak out for a trail ride by themselves! Annie knows it's not the right thing to do, but goes along anyway. Fortunately, when the girls become lost, she remembers to let the ponies take the lead.

Just the thing for pony-crazed readers. This delivers a serious message with a gentle touch.

I borrowed this book from the library.



Animals in the Outhouse
by Anya Frolich, illustrated by Gergley Kiss
Sky Pony Press
June 2012

This is a funny book on an unusual topic featuring quirky toilet humor. An overambitious forest ranger puts an outhouse in the forest for the animals to use. Professor Grunter the boar feels a bit uncertain about this new device, so he decides he'll just tell everyone he's already used it... and then see how it goes for everyone else. One after another, each animal unsuccessfully tries, while not admitting it to the others. "Professor Gunter was the last in line. Fortunately, everyone else had left by now. In fact, most of them left rather in a hurry - heading for their favorite pooping spots in the forest, no doubt."

I loved the end-papers. What a great bonus. The opening pages show the forest ranger driving off with his blue outhouse. The back of the book features a map of the forest with all the animals in their habitats. This book was translated from the original German.

I borrowed this book from the library.



Jonathan and Martha
by Petr Horacek
Phaidon Press
April 2012

Here's a cute and funny story about two worms who learn to share... and end up falling in love.
The textured collage is reminiscent of Eric Carle, up to and including some die-cut and fold-over pages. This was a hit at storytime! I highly recommend this gem.

I borrowed this book from the library.