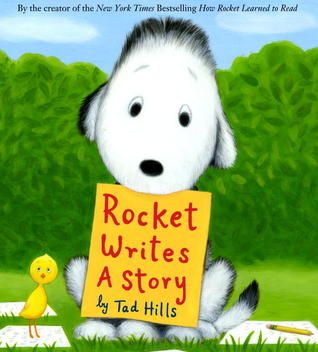 Rocket Writes a Story
by Tad Hills
Schwartz & Wade
July 2012

I thought this was a cute little story about writer's block, the revision process, and how a sweet puppy eventually befriends an owl.

This book might be a little lengthy for the preschool set, but could be just right for those kindergartners or even 1st graders who are starting to unravel the mystery of putting words together in a written story for the first time.

A nice follow-up to Rocket Learns to Read.

I borrowed this book from the library.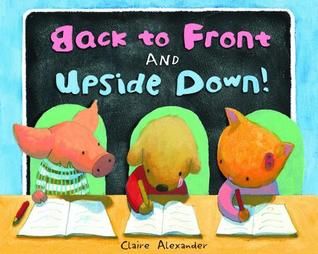 Back to Front and Upside Down
by Claire Alexander
Eerdmans Books for Young Readers
September 2012

In this sweet little story, classroom animals get over their fear of asking for help when they're not sure of their letters. This book seems like perfect encouragement for struggling new readers. I thought this might be a dyslexia book (and it could be read that way I suppose) but any child who's ever gotten frustrated with learning to write should enjoy this one. I don't know if I'd read this with children who already enjoy reading though - why plant ideas that reading and writing are hard if you don't have to?

I borrowed this book from the library.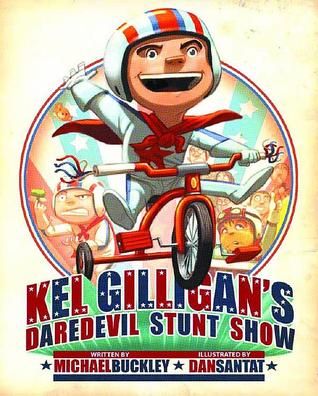 Kel Gilligan's Daredevil Stunt Show
by Michael Buckley, illustrated by Dan Santat
Harry N. Abrams
September 2012

Kel Gilligan daringly, shockingly, amazingly tackles what many kids might find impossible: eating broccoli, using the potty, taking a bath, not interrupting his mother on the phone, and almost manages getting to bed as well. Astonishing! The illustrations in this book were made with "Adobe Photoshop and with 100% fearlessness." Dan Santat's slightly squared off illustrations are expressive with lots of boy appeal. There are fun little details like crayon scribbles on the walls of the family's home, and pictures of Kel wearing a T-shirt that says, "I (Heart) Danger." Funny, funny stuff.

I borrowed this book from the library.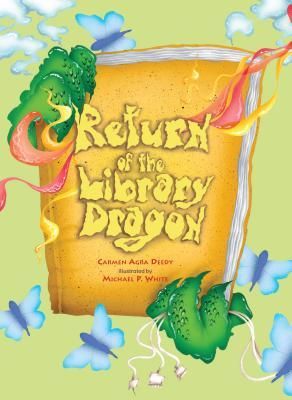 Return of the Library Dragon
by Carmen Agra Deedy
Peachtree Publishers
September 2012

This was fun, I guess. It's an ode to how wonderful books and libraries are. (I loved the endpages with plenty of pro-library quotes.) As expected, the new librarian reassures the retiring library dragon that she'll care for the books, and won't get rid of all paper books in favor of technology. I was sad to see the anti-computer message. Cybrary? I don't think we use that term, except for a brief while at the turn of the century. It's not an either/or dichotomy with e-books and paper books. You can have both! I don't think that fully came across. You know what sticks in my craw about this book - it makes you feel bad. Like even if you are a book lover, you don't love them enough. Who needs that kind of guilt trip?

I borrowed this book from the library.