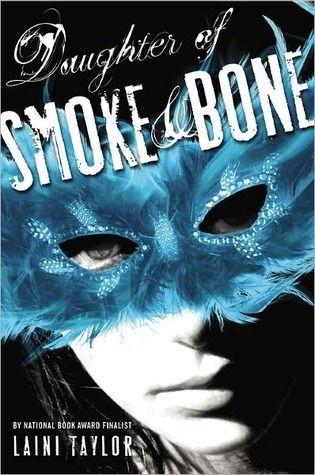 Daughter of Smoke and Bone
by Laini Taylor
Little Brown and Company
September 2011
First line: "Once upon a time an angel and a devil fell in love. It did not end well."
It's hard to know where to start on this review. All I can say is, that like many readers, I was swept away with the amazing world-building and intrigue in this expansive and well-thought out fantasy.
This book was so suspenseful and mysterious. Here's Karou, this blue-haired teenage art student in Prague, who's secretly been raised by a family of teleporting magical chimera. How and why did they end up with a human child in their care? What on earth are they doing with all of the teeth that they ask her to acquire? Karou's childhood, growing up in New York and Hong Kong, and the jet-setting lifestyle that she leads, eventually landing in Prague, seemed exotic and amazing enough on its own. When you add in Issa, her half-snake, half-human surrogate mother, and Brimstone her half-ram, half-human stern father figure - it just takes everything to a new level.
The writing is incredibly lush and lyrical. It completely draws you in to the world. As details are slowly revealed, the love story is both beautiful and intense. I loved all the twists and turns to this story. There are a number of shocking revelations. I did not see the whole world behind the wardrobe door, so to speak. This book is everything one could hope for in an epic fantasy, so its popularity is not surprising. If you haven't picked up already, you definitely should!
Compare to:
Seraphina - Rachel Hartman
Chime - Franny Billingsly
Wicked Lovely - Melissa Marr
I received a free copy of this book from the publisher.